Search by Vehicle
Installation Guides & Articles
This installation guide is for our #S1 direct fit LED license plate lamps for Audi A4 A5 Q5 and BMW 1 3 5 Series, X1 X3 X5 X6. This kind of LED license plate lamp will replace both the BMW's conventional 6418 filament bulb license plate lamps and the newer 2-LED license plate lamps...(read more)




We did this DIY guide based Mario's 2013 Scion FR-S to show you guys how to install these direct fit LED license plate lamps. This installation guide will also apply for Subaru BRZ as well as several Subarus like Imrepza, WRX Wagon and Legacy. The installation guide is very straight forward, directly remove the OEM ones and replace it back with our LEDs...(read more)

Here we will show you step-by-step to replace these direct fit LED license plate lamps for the Mercedes W204 C-Class. Please keep in mind, for most Mercedes such as C-Class, E-Class, CLS-Class and GLK-Class. In order to remove the stock license plate lamp, you need to remove the outside trunk liner trim and the inside trunk lid carpet...(read more)




We received a couple complaints from customers saying these Honda/Acura LED license plate lamps will not fit. We found out that the issue is caused by a slightly thicker foam gasket. When installing it back, try to wiggle it with your fingers from behind the trunk. Use your finger to grab this compression clip to help lock the clip under the metal...(read more)

 

This installation guide is for Lexus/Toyota direct fit LED license plate lamps. Please remember, if there's carpet inside the trunk lid, you need to remove it to gain access to the back of the license plate lamp in order to remove it and replace it with the LED lamps. For this product, there's a left and right difference, so please take a look before installing it...(read more)




This installation is based on a 2012 Volkswagen GTi for these OEM fit CAN-bus error free LED license plate lamps. Please remember to attach the CAN-bus resistor decoders so there is no error message on the dashboard after the installation. Also when you are installing this product, please make sure the car engine is off and the light is off as well...(read more)
Direct Replacements Made With You in Mind
While there are so many choices to go with for the LED lighting in a car, the primary concern for most customers is the need for brightness. While regular LED bulbs are do a great job at replacing the ugly, dull, yellowish incandescent bulbs for a more modern, xenon white color and providing more light, some people still want MORE!
To answer customers' demand, we have introduced a big step up, the vehicle specific LED replacement assemblies directly replaces the stock license plate lamp, the side door courtesy lamp and the side marker lamps for a 100% more lighting output. Instead of just replacing a bulb inside, we have redesigned and used up the entire space inside a lamp to build with an LED circuit board so it can easily achieve a 3-4 times more lighting output than a stock bulb and at least two times brighter than a simple LED bulb replacement. Not only is it brighter, these LED lamp assemblies have been designed to be a direct fit to make the installation process easy and give it a more OEM look.
Some installation tips
Take a look at this picture of the LED license plate lamp, there's a smaller tab and a bigger tab. Please follow the diagram shown below to put it back.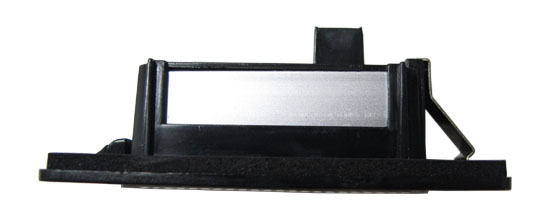 More DIY Guide For Exact Fit LED Lamps
More articles about iJDMTOY Exact Fit LED Lamps