--------Shop Kia Parts & Accessories--------
--------Kia Gallery Pictures--------

For more pictures of our customers installed the LED lights on their Kia, please visit our Kia Gallery
--------Kia News and Updates--------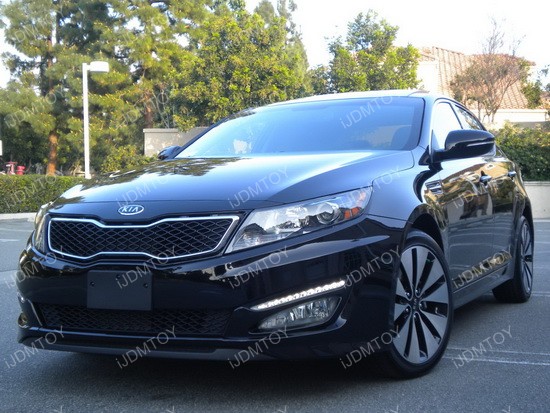 This set of Kia LED Daytime Running Lights gives your Kia a great genuine Kia K5 OEM style and really elevates the look. Not only can your Kia look like the K5 OEM version, but by doing so, your Optima already looks different and stands out from all of the other Optimas on the road nowadays.

The painted OEM glossy black bezel helps your Optima look extremely sleek and quite the unique one on the road...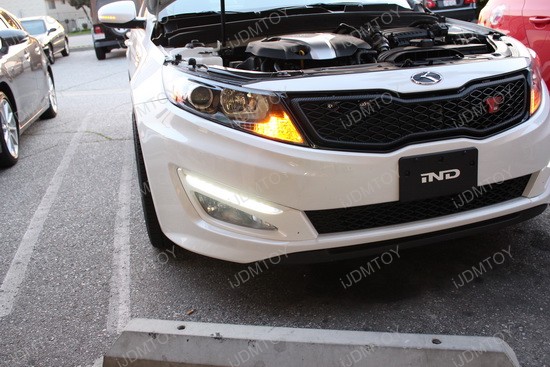 We also installed our 27-SMD 1157 LED Switchback bulbs WITH LED load resistors. For some of you who are not familiar with what a switchback LED bulb is, it is an LED bulb that stays lit as Xenon White when the parking lights are running and once the turn signals are engaged, the light blinks Amber.

This type of design allows for a stylish look that better matches OEM or aftermarket HID lights compared to the original bulb color and still be legal as the turn signals remain amber when signaling...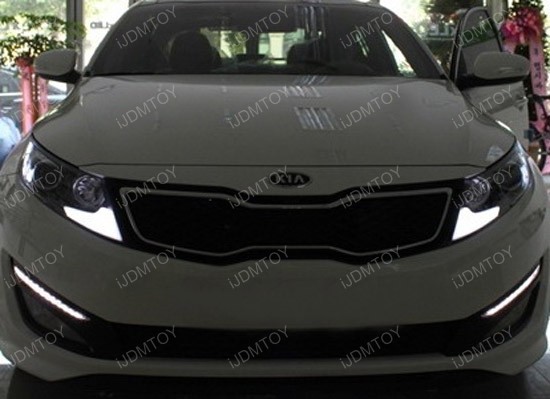 Love the KDM Kia K5 and feeling extremely jealous that you're stuck with the boring American version?

We've got you covered with a sleek set of OEM style LED Daytime Running Lights for your 2011-2013 Kia Optima. Each piece comes with 12 pieces of high power LED lights per LED DRL. Installing this Kia K5 KDM LED DRL takes a bit of effort, as you have to cut out a part of the bumper crash beam (therefore we highly recommend professional installation for this product)...
For more news and updates about Kia, please visit our Car LED blog