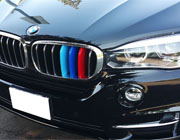 BMW Accessories
BMW grille inserts are a fun way to show off your Bimmer and add a pop of color onto the grille. These grille inserts are easy to install and easy to remove as well. Choose the insert based on your vehicle specs and you're practically on your way to get a super hip look. There's even other fun accessories to choose from, like Euro striped stickers, speaker ring cover, and even LED emblem for background lighting.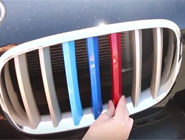 This is a video demonstration to show you how to choose the correct BMW grille insert trim and install them onto your vehicle. It will only take a few minutes to get this awesome look!
BMW is known worldwide for being a leader in both luxury and performance, and the M Sport Performance colors are a representation of that pedigree. iJDMTOY offers a wide range of M Performance kidney grill insert trims that will give your BMW that M-Sport look and feel. Our M color BMW grill trims are made from a high quality and durable ABS plastic that is formed to the exact shape of your vehicle's front grill bars so that they are able to snap into place in seconds. Show off your BMW's luxury racing spirit with one quick and easy modification.
Here at iJDMTOY, we are pleased to offer our customers with only the best in automotive lighting. With easy to follow instructions and high-quality products, it is easy to modify your vehicle when you shop with us. If you have any questions about your order or our products, our customer service representatives will be happy to help.