Features Complete kit comes with a pair of switchback LED halo rings (70mm) with AO (amber/off) mode color changing circuit board drivers and ap...

View full details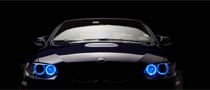 BMW Angel Eyes 101
These angel eye rings (also known as corona rings by BMW) are fiber optic rings that reflect light within itself to create a uniform ring of light around the low and high beam lights. iJDMTOY carries the most complete BMW angel eye products for all the BMW models in varieties of designs such as CREE LED Angel Eyes, Osram LED Angel Eyes, RGB Multi-color LED Angel Eyes, etc.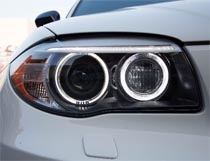 Why are Outer Aftermarket Halo Rings Dimmer Than the Inner Ring?
There is a ring marker bulb located in the inner ring housing. When it lights up, it provides a direct illumination for the inner ring. However for the outer ring, the light needs to travel thru the fiber optics tube, therefore it will appear weaker than the inner ring no matter how bright this LED angel eye bulb is.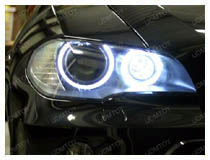 How To Install BMW LED Halo Rings
This installation is based on a 2010 BMW X5 to show you how to install our best selling H8 angel eye ring marker bulbs. This installation will also apply for the BMW E82/E88 1 Series, E90/E91/E92/E93 3 Series, LCI E60 5 Series as well as E70/E71 X5 and X6...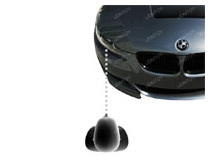 Is the Outer LED Halo Ring Barely Lighting Up?
From time to time, we always have customers asking questions about our #S7 BMW angel eyes like why the inner ring is much brighter than the outer ring and sometimes why the outer ring is barely lighting up? In this article, we will explain what caused this to happen and how to fix this problem in couple simple steps...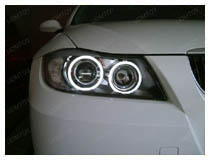 How to Install LED Ring Marker Bulbs on Pre-LCI BMW 3 Series
In this installation guide, we will show you how to install the special ring marker bulbs for 2006-2008 Pre-LCI BMW E90 3 Series. To properly install this product, we highly recommend you remove the front wheels so you can get full access to the headlamp from the behind...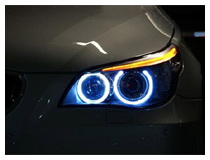 How to Install BMW 5 Series LED Angel Eyes
We have two installation guides here for our best selling BMW angel eye ring marker lamps for BMW E39 and E60 5 Series. Please keep in mind, for the E60 5 Series, since the bulb is hidden complete inside the headlamp, you have to remove the headlamp to gain the access. We have a video here to show you how to do this...
iJDMTOY offers a wide range of products for BMW vehicles including LED angel eye and halo ring kits. These are fiber optic rings that reflect light to create a ring of light around the low and high beam light housings. The halo ring lights act as an added safety feature by allowing your lights to be more easily seen while also being a modern aesthetic upgrade. We carry a variety of BMW angel eyes and halo ring lights to choose with options ranging from basic to high tech. Some of our more high-tech LED angel eye and halo ring lights can be operated using a Wi-Fi remote control. Most of the BMW lights feature a simple plug and play installation with no modification required. There is a wide variety of colors to choose from so that you can customize your vehicle to your specific needs and preferences.
Here at iJDMTOY, we are pleased to offer our customers with only the best in automotive lighting. With easy to follow instructions and high-quality products, it is easy to modify your vehicle when you shop with us. If you have any questions about your order or our products, our customer service representatives will be happy to help.