LED Direct Replacement 101
The vehicle specific LED replacement assemblies directly replaces the stock license plate lamp, the side door courtesy lamp and the side marker lamps for a 100% more lighting output. Instead of just replacing a bulb inside, we have redesigned and used up the entire space inside a lamp to build with an LED circuit board so it can easily achieve a 3-4 times more lighting output than a stock bulb and at least two times brighter than a simple LED bulb replacement, with a more OEM look.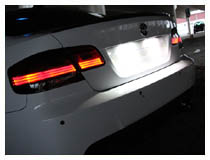 How to Install Direct Fit LED License Plate Lamps For Audi, BMW
This installation guide is for our direct fit LED license plate lamps for Audi A4 A5 Q5 and BMW 1 3 5 Series, X1 X3 X5 X6. This kind of LED license plate lamp will replace both the BMW's conventional 6418 filament bulb license plate lamps and the newer 2-LED license plate lamps...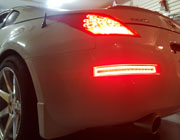 <