Features Fit Land Rover 1950-1958 Series 1, 1958-1961 Series 2, 1971-1979 Series 2A 3 and 1983-2018 Defender 90 110 127 130 Includes (4) clear or ...

View full details
LED Direct Replacement 101
The vehicle specific LED replacement assemblies directly replaces the stock license plate lamp, the side door courtesy lamp and the side marker lamps for a 100% more lighting output. Instead of just replacing a bulb inside, we have redesigned and used up the entire space inside a lamp to build with an LED circuit board so it can easily achieve a 3-4 times more lighting output than a stock bulb and at least two times brighter than a simple LED bulb replacement, with a more OEM look.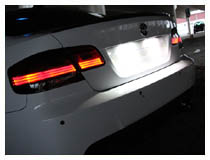 How to Install Direct Fit LED License Plate Lamps For Audi, BMW
This installation guide is for our direct fit LED license plate lamps for Audi A4 A5 Q5 and BMW 1 3 5 Series, X1 X3 X5 X6. This kind of LED license plate lamp will replace both the BMW's conventional 6418 filament bulb license plate lamps and the newer 2-LED license plate lamps...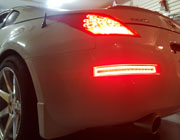 iJDMTOY Nissan 350Z LED Rear Bumper Light Installation
The Nissan 350Z is extremely popular among younger drivers and it's very common to see tons of modified Nissan 350Z out on the road. A great upgrade for the Nissan 350Z is the LED rear bumper light, which has brake light (rear fog feature), reverse lights, and turn signal lights all in one. Check out AnthonyJ350's guide on how to install iJDMTOY Nissan 350Z LED rear bumper lights.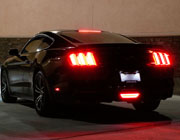 Install iJDMTOY Ford Mustang LED Rear Fog Light Kit
How can you upgrade one of the most iconic cars in America? With iJDMTOY's Ford Mustang LED rear fog light, you can transform your Mustang's boring rear lamp to a 3-in-1 function LED rear fog lights with brake light, rear fog, and backup reverse lights for a super unique Euro spec look.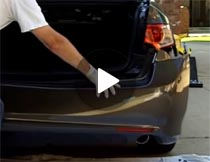 Video on How to Remove Stock Bumper Reflectors
This YouTube video shows you how to remove the bumper reflectors. Some bumper reflectors can be popped off, but in most cases, you will need to need to gain access from the back of the bumper in order to pop the reflector off since it is held with a clip or screw. So in order to do a clean job, we highly recommend you remove the rear bumper to install this product.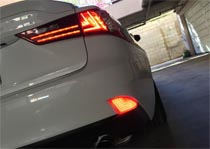 Bumper Reflectors 101
LED Bumper Reflectors were first introduced in 2010 at Tokyo Auto Salon. They were designed to replace the OEM bulb-less plastic reflectors on the bottom of the rear bumper with the same type of assembly but have the LED lights built inside. These stylish LED reflector lights provide a quick response and more light when you step on the brakes which allows other drivers to see and react quicker to avoid collision.
iJDMTOY offers a wide variety of LED lighting assemblies that are perfect for replacing the standard OEM halogen bulbs on your vehicle or adding on additional LED lighting. Whether you want to light up your rear license plate or upgrade the side marker lights on your vehicle, we will have the LED lighting assembly that you're looking for. There are various benefits that come with upgrading to LED lights from the standard halogen bulbs. LED bulbs will have a much longer life span, they have a brighter illumination, and they are more energy efficient than most bulbs that come on your car from the factory. We carry various LED lighting assemblies including LED bumper reflectors, rear fog lights, side mirror lights, side marker turn signals, and interior lights such as the trunk, dome, and puddle/courtesy lights.
Here at iJDMTOY, we are pleased to offer our customers with only the best in automotive lighting. With easy to follow instructions and high-quality products, it is easy to modify your vehicle when you shop with us. If you have any questions about your order or our products, our customer service representatives will be happy to help.