Steel Constructed No Drill/Cut, No Modification Required Lower Bumper Mounting Brackets/Hardwares For 2009-18 Dodge RAM 2500 3500 20-30 Inch LED Light Bar
Free Shipping Within 24 Hours.
Compatible with 2009-18 Dodge RAM 2500 3500 
Good for 20-30 Inch LED Light Bar
Mounting location: Lower Bumper
Hide the off-road LED light bar in the grill to keep your Dodge RAM with a factory stock look with excellent lighting whenever you need it to RULE THE NIGHT!
Q: Does this product fit Dodge RAM 1500?
A: No, this product does not fit the RAM1500.
Q: Will this LED light bar block the air flow?
A: When we first developed the LED light bar, we conducted a significant amount of research on truck forums based on members' feedback. The consensus is that there is no noticeable effect from the LED light bar blocking the air flow.
Besides, the front end of the truck is not completely sealed after the LED light bar installation so the air can flow in from the front grille as well.
Q: How do I install this Dodge RAM LED Light Bar?
A: The following steps will show you how to install your Dodge RAM LED lightbar:
Step 1: Remove four bolts that are holding onto the original tow hook on the lower bumper area for both sides. Take off the existing tow hook. If your trim does not have an existing tow hook, there are still pre-drilled holes that you can use to mount back the mounting bracket.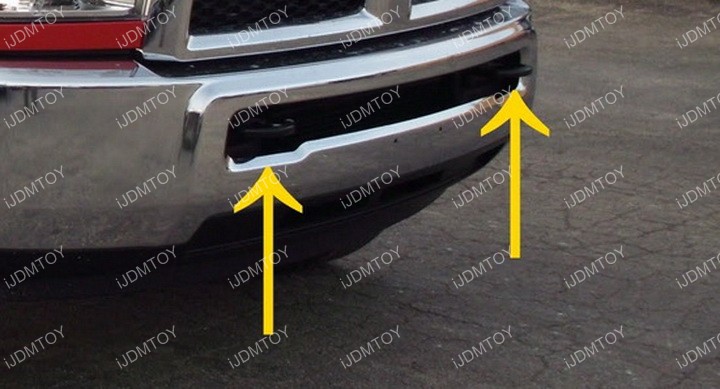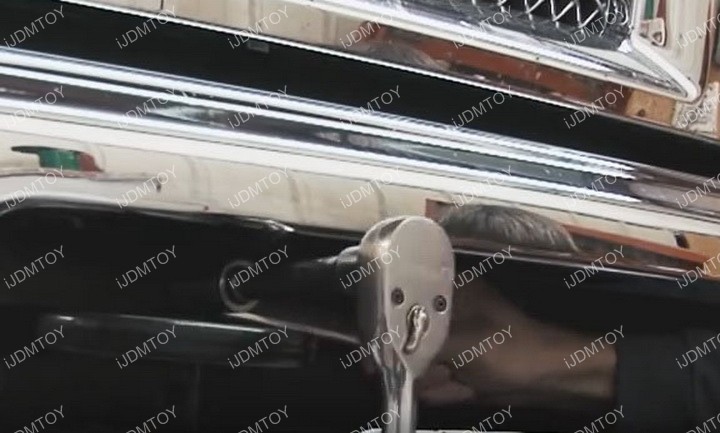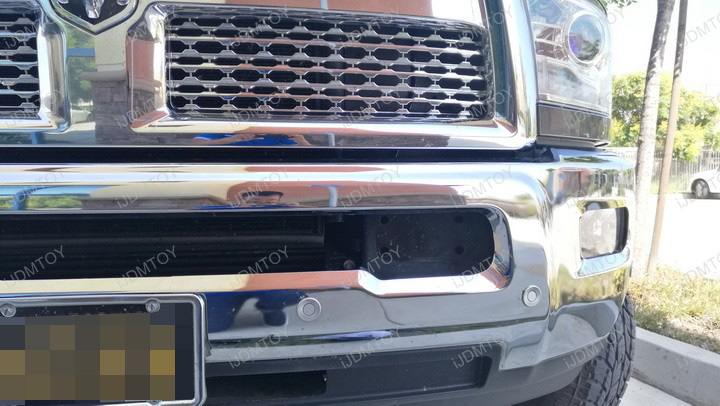 Step 2: Place the bracket behind each tow hook with the light tab towards the inside.

Step 3: Place your tow hooks over the mounting brackets. Use the longer screws to bolt and secure the metal mounting brackets and the tow hooks to the lower bumper location.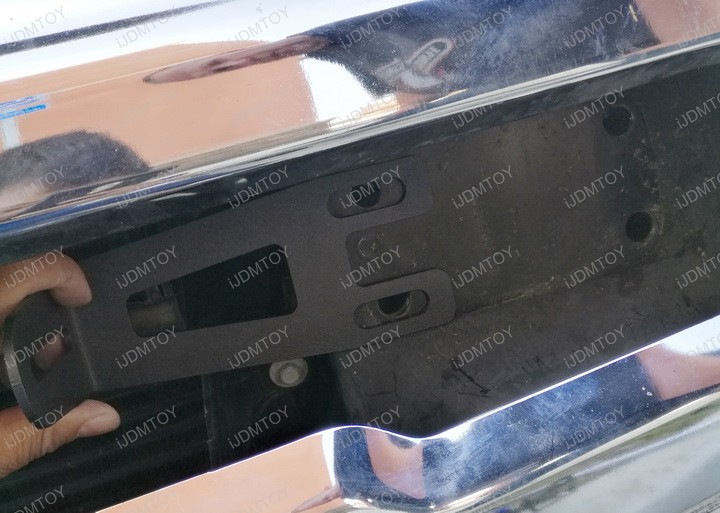 When you initially bolt the mounting bracket into your lower bumper location, try to loosely screw in the bracket without tightening the screws so you can have a tentative mounting location. 

The oval openings allow for a little leeway per side for a snug fit after all the components have been screwed in. Because of the oval opening design, the mounting brackets will have a little bit of wiggle room to allow you to properly mount the LED light bar in between.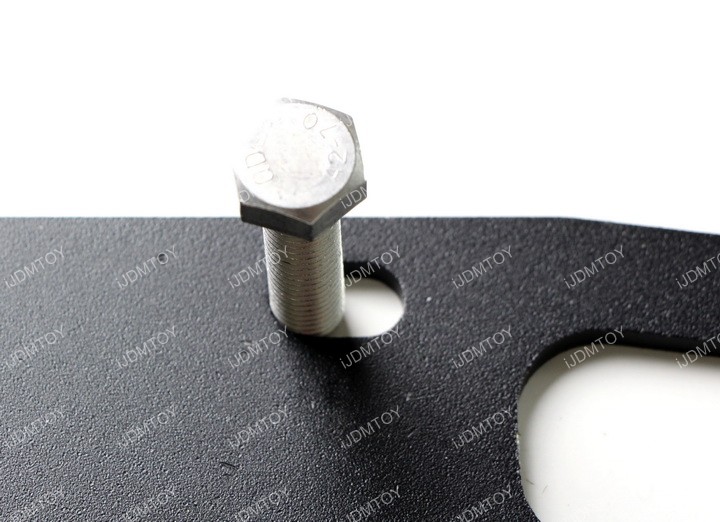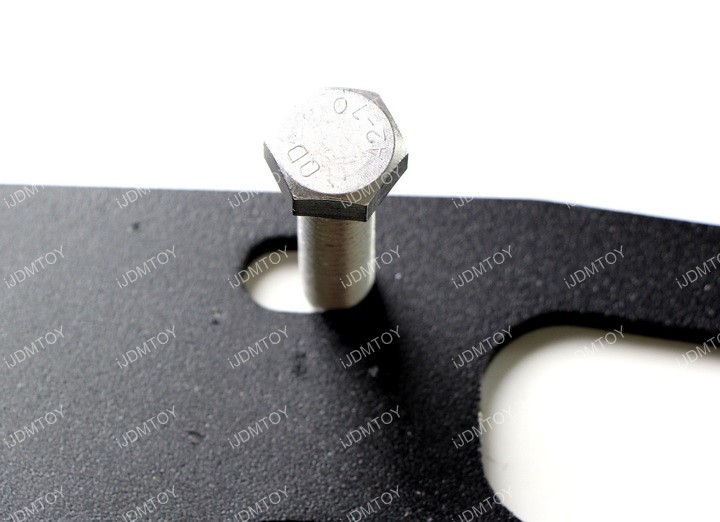 Step 4: Secure the LED light bar in between the support brackets. You will be able to insert it in between the gap of the bumper by carefully angling it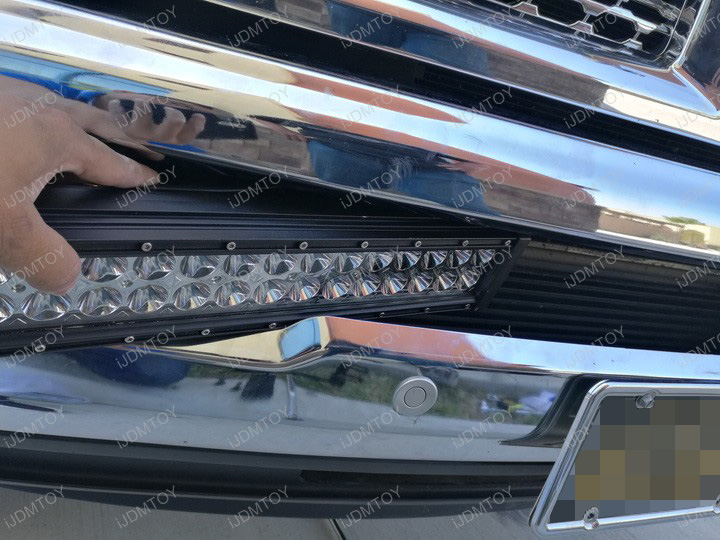 Take the screw, spring washer, and bolt. Insert the screw into the bracket and then insert the spring washer and bolt respectively. Then screw in the bracket and LED light bar together. You'll need an allen wrench to complete this step. 

Repeat on the other side and adjust the leveling as you go.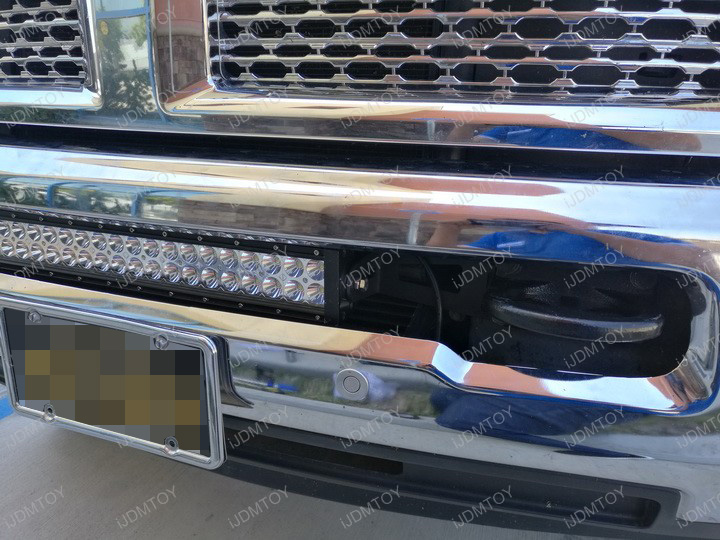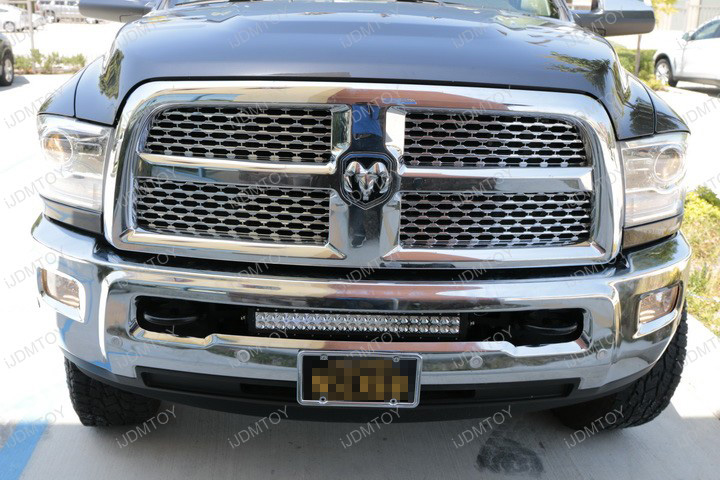 Step 5: Wire up your new Dodge RAM LED light bar.
Please visit LED light bar kit FAQ/tech support for more detail.