Lower Grille Mount 30" LED Light Bar Kit For 2016-2023 Toyota Tacoma, (1) 150W High Power CREE LED Lightbar, Bumper Opening Mounting Brackets & Wiring
Free Shipping Within 24 Hours.
Fit 2016-2023 Toyota Tacoma
Complete LED light bar kit includes (1) 30-31" xenon white 150W high power CREE spot beam LED lightbar, (1) set of industry grade steel metal constructed lower grill opening area bracket mounts and (1) set of relay wire harness w/ in-line fuse and on/off switch
Easy-to-install LED light bar kit features a 100% bolt-on installation procedures with no modification, cutting or drilling required
Hide the off-road LED light bar at the lower grille area to keep your truck with a factory stock look with excellent lighting whenever you need it to RULE THE NIGHT!
This page features a complete set of 30" lower bumper grill mount high powered LED light bar system combo for the 3rd Gen 2016-2023 Toyota Tacoma. Each kit comes with a piece of 150W CREE high powered LED light bar with spot beam pattern and a pair of black powder coated full metal lower bumper grille mounting brackets and On/Off switch wiring kit.

To install your new Toyota Tacoma LED light bar, simply bolt on the brackets using the lower bolt opening and then mount your LED light bar onto the brackets, behind the plastic grille. Since everything is bolt on, there is absolutely not modification required.
Q: Is there any modification required for installation?
A: No, there is absolutely no modification required for installation. The iJDMTOY LED light bar is unlike Rigid, where the latter requires cutting prior to installation.
Q: What if I don't want to take off my front grille before installing the LED light bar?
A: Sorry. Taking off the front grille is required for installing the LED light bar. You can see that there's not enough space to insert the LED light bar if the grille is still attached.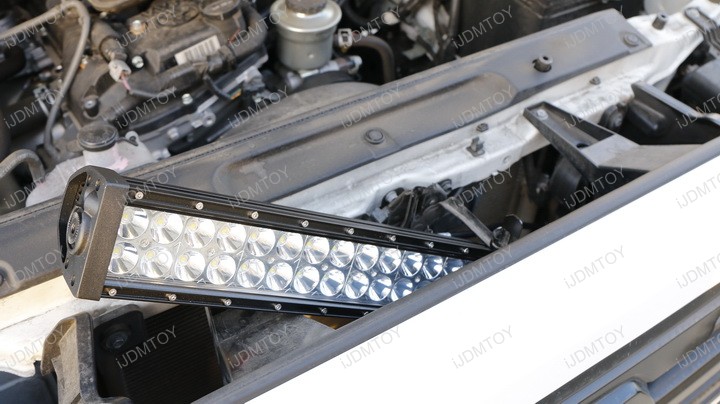 Q: How do I know which mounting holes to use to secure the Toyota Tacoma LED light bar?
A: To find out which mounting holes to use, remove the bumper and look at the crash beam facing the front side. Because you will be installing this onto a 2016 or later Toyota Tacoma, you will be mounting your metal mounting brackets onto the inner mounting location by the support bracket's 2nd hole. The Toyota Tacoma should have 2 mounting holes on the outer side of the crash beams.

Q: Why does my LED light bar not sit in the middle of the gap?
A: If the LED light bar is set straight in the middle, the light will be blocked by the plastic beams and bar. We designed our mounting brackets so that the LED light bar sits just below the plastic bar to prevent any light obstruction.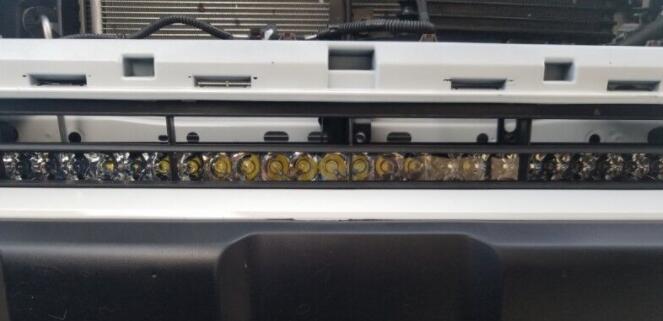 Please visit LED light bar kit FAQ/tech support for more detail.