Lower Grille Mount 40" LED Light Bar Kit For 2011-16 Ford F250 F350 Super Duty, (1) 240W Curved LED Lightbar, Bumper Opening Mounting Brackets, Wiring
Free Shipping Within 24 Hours.
Compatible with 2011-2016 Ford F-250 F-350 F-450 Super Duty
Complete LED light bar kit includes (1) 40-42" xenon white 240W high power spot beam LED lightbar, (1) set of industry grade steel metal constructed lower grille opening area bracket mounts and (1) set of relay wire harness w/ in-line fuse and on/off switch
An easy-to-install LED light bar kit features a bolt-on installation process
Please note that removal of factory tow hooks is required! The tow hooks are integral in the bumper bracket and must be either cut off or to install the tow hook delete bracket (see the 4th picture)
Clevely utilize the lower bumper opening area to install this killer bright off-road LED light bar with excellent lighting whenever you need it to RULE THE NIGHT!
This page features the 240W high power double-row curved LED light bar from iJDMTOY. The complete kit includes the 40-42" 240W high power LED light bar that shines in a spot beam pattern and 3mm thick steel lower bumper area mounting brackets. This light bar is full sized for the Ford F-250/F-350 lower bumper area, and is the brightest attainable LED light bar on the market.
The high power curved LED light bar fits any 2011-2016 Ford Super Duty Series truck, but note that installation will require removal of the factory tow hooks. You will either have to cut off the tow hooks or separately purchase the "Tow Hook Delete Brackets" to fit in the 40/42" LED light bar. The curvature of the LED light bar perfectly contours to the curve of the Ford Super Duty bumper which makes for a seamless fit. Whether it be night or day, your Ford Super Duty truck will gain a super rugged off-road look.
Q: What truck does this LED light bar fit in?
A: The 40-42" 240W double row LED light bar fits the 2011-2016 Ford Super Duty series, including the F-250, F-350, and F-450.
Q: Why do I have to remove my Ford's tow hooks?
A: The 40" 240W is the most powerful LED light bar on the market right now. In order to provide the highest output, the LED light bar must be 40" in length to house the 80 3W diodes. In order to accommodate that, the tow hooks must be removed. Also, the white bracket piece shown below is a part of the bumper bracket and is necessary for you to remount your bumper and to install the LED light bar, so this piece cannot simply be removed.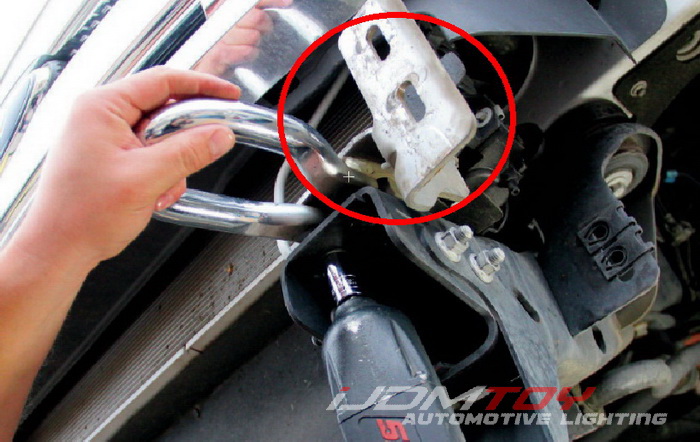 Q: Do I absolutely need to use a relay harness wiring kit?
A: Although it's not absolutely necessary to wire your LED light bar to a relay harness (you can connect the wires to the stock harness), we highly recommend that you do so if you don't have one already. Connecting your LED light bar to a relay harness will protect your Dodge RAM's circuits, since the relay harness has a built-in fuse, and ensures that it doesn't overload. Having your LED light bar connected to a relay harness protects your car battery's longevity; turning your car off also turns off the LED light bar. Additionally, our relay harnesses come with an on/off switch so that you can conveniently switch on/off your LED light bar whenever you need to.
Please visit LED light bar kit FAQ/tech support for more detail.