Lower Grille Mount 40" LED Light Bar Kit For 2010-18 Dodge RAM 2500 3500, (1) 240W Curved LED Lightbar, Bumper Opening Mounting Brackets & Wiring
Free Shipping Within 24 Hours.
Fit 2010-2018 Dodge RAM 2500HD 3500HD
Complete LED light bar kit includes (1) 40-42" xenon white 240W high power spot beam LED lightbar, (1) set of industry grade steel metal constructed lower grille opening area bracket mounts and (1) set of relay wire harness w/ in-line fuse and on/off switch
Easy-to-install LED light bar kit features a 100% bolt-on installation procedures with no modification, cutting or drilling required
Clevely utilize the lower bumper opening area to install this killer bright off-road LED light bar with excellent lighting whenever you need it to RULE THE NIGHT!
This page features a complete set of 40" curved LED light bar with mounting bracket and switch/wiring harness combo for the 2010-2018 Dodge RAM 2500 3500. Each kit comes with one piece extremely bright 40" 240W curved double-row LED light bar (spot beam pattern) with a pair of metal constructed lower bumper grille mounting brackets and on/off switch wirings.

With our special designed custom mounting brackets, you can do an easy bolt-on installation without any drilling, cutting required. However, you need to remove the original tow hooks in order to get this gigantic 40" LED light bar fit at the Dodge RAM's lower bumper area.
Please note:
You have to remove the original tow hooks in order to install this LED light bar
This product will not fit the Dodge RAM 1500
Q: Why do I have to remove my Dodge RAM's tow hooks?
A: The 40" 240W is the most powerful LED light bar on the market right now. In order to provide the highest output, the LED light bar must be 40" in length to house the 80 3W diodes. In order to accommodate that, the tow hooks must be removed.
Q: Will this LED light bar fit fully inside my lower bumper opening?
A: No, it will not. Because of the concave shape of the curved LED light bar, it will stick out of your Dodge RAM's lower bumper opening.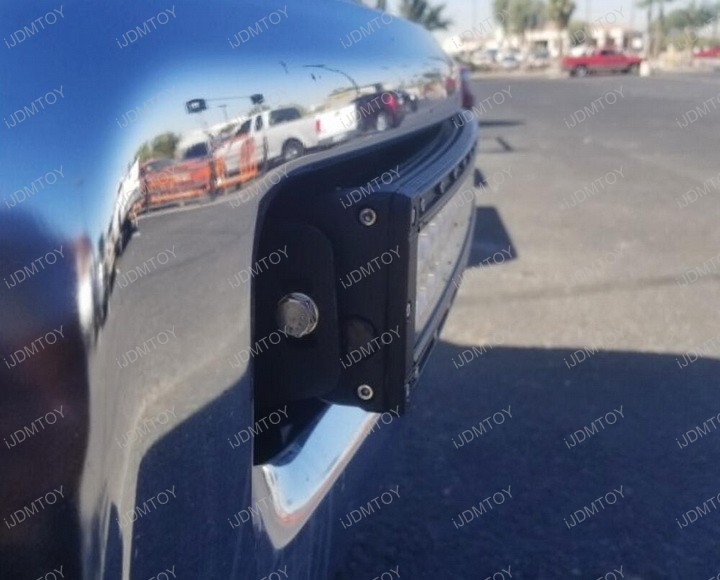 Q: Do I absolutely need a relay harness wiring kit?
A: Although it's not absolutely necessary to wire your LED light bar to a relay harness, we highly recommend that you do so if you don't have one already. Connecting your LED light bar to a relay harness will protect your Dodge RAM's circuits, since the relay harness has a built-in fuse, and ensures that it doesn't overload. Having your LED light bar connected to a relay harness protects your car battery's longevity; turning your car off also turns off the LED light bar. Additionally, our relay harnesses come with an on/off switch so that you can conveniently switch on/off your LED light bar whenever you need to.
Please visit LED light bar kit FAQ/tech support for more detail.