LED Pod Light Fog Lamp Kit For Dodge 2009-12 RAM 1500 & 10-19 RAM 2500 3500, (4) 20W CREE LED Cubes, Fog Location Mounting Brackets & Wiring/Adapter
Free Shipping Within 24 Hours.
Fit 2009-2012 Dodge RAM 1500 and 2010-2019 Dodge RAM 2500HD 3500HD w/the metal bumper models
Complete LED fog lamp kit includes (4) 3" xenon white 20W high power CREE spot beam LED pods, (1) set of industry grade metal constructed OEM fog lamp area/location bracket mounts and (1) set of wire pigtails w/ 9145 H10 adapters
Easy to install LED fog/driving light kit features a 100% bolt-on installation procedures with no modification, cutting or drilling required
Cleverly utilize the factory halogen fog openings and upgrade them to total 80W high power off-road killer LED lighting for a super bright output, allow you to completely RULE THE NIGHT!
This set features a 4-piece set of high powered CREE LED fog light kit with metal mounting brackets for the 2009-2012 Dodge RAM 1500 or 2010-2019 Dodge RAM 2500 3500. These 3" cube shaped LED lamps have a spot beam output that makes the assembly perfect as heavy duty LED fog light with superior illumination.

Each kit comes with 4 pieces of cube shaped LED lamps, exclusively designed heavy duty mounting brackets, and wiring adapters for an easy conversion to the existing fog light harness.
Note: this product will only fit the Dodge RAM with the metal bumper and the horizontal halogen fog lamps. Will not fit the Dodge RAM with vertical fogs.
Q: Will these Dodge LED Fog Lights fit my truck?
A: This set of Dodge LED Fog Lights is compatible with:
2009-2012 Dodge RAM 1500
2010-2019 Dodge RAM 2500 3500
Please note that this pair of dual LED pod lights are meant to fit onto metal bumpers with horizontal fog light openings of the RAM models listed above, and not on those with plastic bumpers.
Q: How do I install this Dodge Ram LED fog light kit?
A: The following steps will show you how to install the dual CREE LED fog lights on your 2009-2012 Dodge RAM 1500 or 2010-2019 Dodge RAM 2500 and 3500. Again, please note this pair of RAM LED pod lights will only fit in metal bumpers with horizontal fog light housings.
The colors of the encirclement correspond to the following functions:
Red - LED fog light mounting location

Light Blue - Bolting locations to mount to your Dodge RAM

Yellow - Wire management hole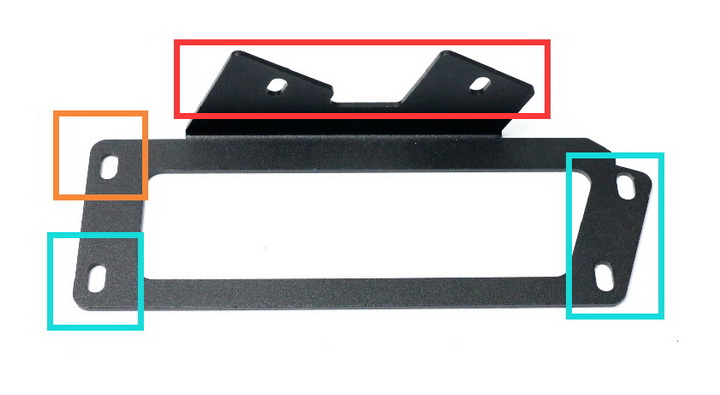 Step 1: Preassemble the LED pod lights. Secure the LED pod lamps to the rectangular metal mounting bracket. Run the closest LED pod light wire through the wire management hole.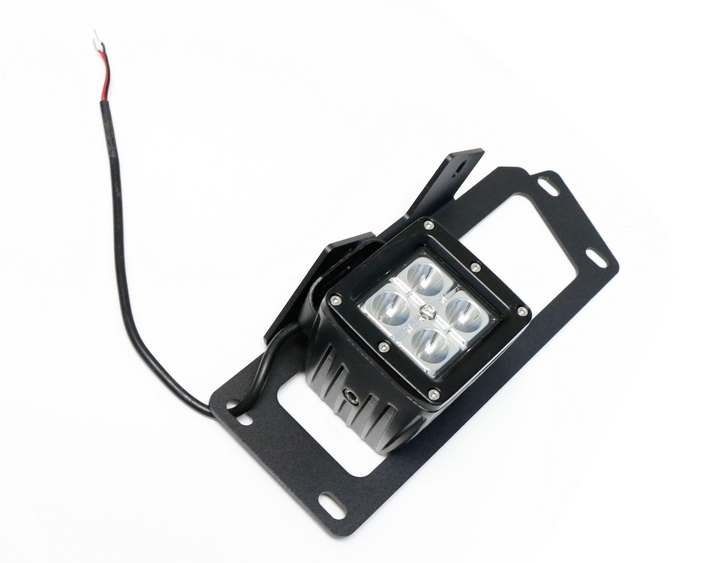 Step 2: Remove the stock fog lamps by unplugging the stock harness and unscrewing the bolts from the OEM bezel. For demonstration purposes, we've removed the bumper. You simply need to reach around from below the bumper to mount the LED pod light bracket assembly.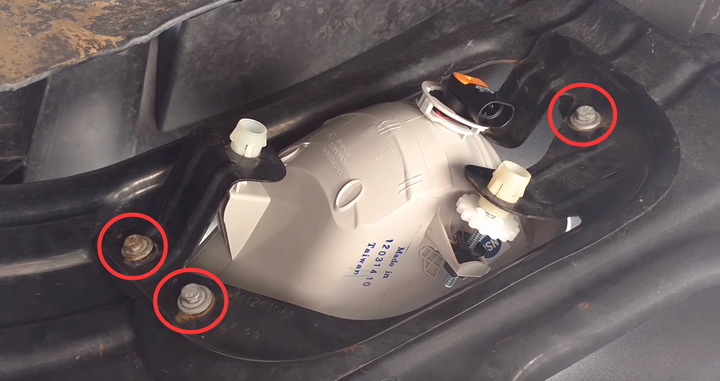 Please note that the horizontal LED pod lights will only fit Dodge RAMs with metal bumpers, as they come with mounting locations on which to secure the LED pod light bracket assembly. The RAM LED pod lamps will NOT fit on Dodge plastic bumpers.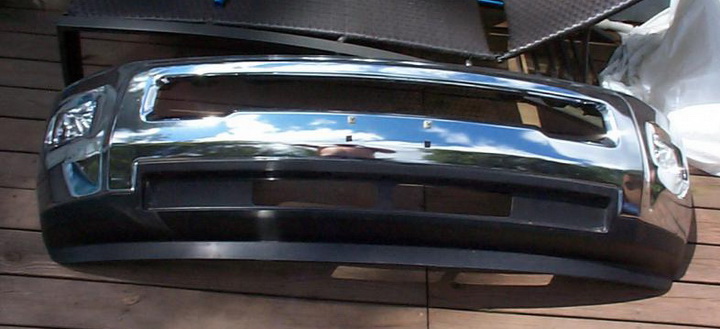 Mount the LED pod lamp bracket assembly by the bolting locations as circled in red below.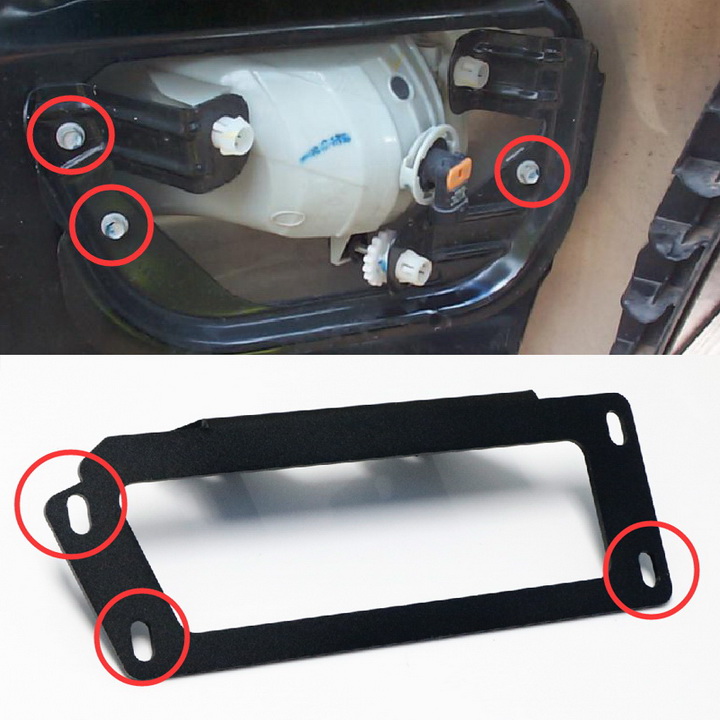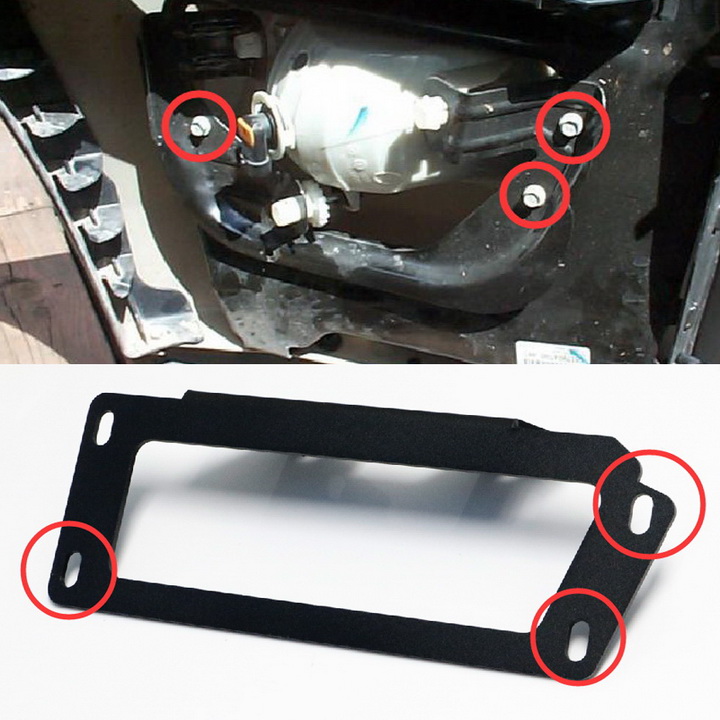 Step 3: Use the included wiring adapters to connect the LED pod light wires to your stock fog light harness. Test the LED fog lights to make sure they light up. Once you confirmed that it has, you may now enjoy your Dodge RAM's new cubed LED fog light set!
Q: My LED fog lights are flickering when the engine is on. How do I fix this?
A: This is a known issue that randomly occurs on some Dodge and Jeep vehicles.
When you upgrade to LED or HID fog lights/headlights on your Dodge or Jeep, you will see the lights flicker a bit when you turn on the engine. The flickering goes away when you turn off the engine. This issue can be fixed by adding a pair of CANbus decoders.
Please visit LED pod fog light kit FAQ/tech support for more detail.