Dual LED Pod Light Fog Lamp Kit For 2004-06 Ford F150 & 06 Lincoln Mark LT, (4) 20W CREE LED Cubes, Foglight Location Mounting Brackets & Wiring
Free Shipping Within 24 Hours.
Fit 2004-2006 Ford F-150 and 2006 Lincoln Mark LT
Complete LED foglamp kit includes (4) 3" xenon white 20W high power CREE spot beam LED pods, (1) set of industry grade metal constructed OEM fog lamp area/location bracket mounts and (1) set of relay wire harness w/ in-line fuse and on/off switch
Easy to install LED fog/driving light kit features a 100% bolt-on installation procedures with no modification, cutting or drilling required
Clevely utilize the factory halogen fog openings and upgrade them to total 80W high power off-road killer LED lighting for a super bright output, allow you to completely RULE THE NIGHT!
This page features 2 sets of raptor style xenon white CREE high power dual LED pod lights with exclusively designed pod light mounting brackets. Each package includes 4 20W CREE spot beam LED pod lights, specially designed metal mounting brackets, and wiring adapters. ​The specially designed metal mounting brackets makes for an easy bolt-on installation with no drilling required; just install the brackets in place of the OEM plastic bezel. The raptor style dual LED pod lights are fitted the 2004-2006 Ford F-150 and the 2006 Lincoln Mark LT.
​The high power dual LED pod lights directly replaceme the OEM halgen fog lamps. When installed, your Ford F-150 achieves the Raptor style of the 2014-2016 Ford F-150 Raptor, breathing new life into your trusty pick-up truck.
Q: Why are these called Raptor style LED fog lights?
A: This style of dual LED pod lights on each side is very similar to the 2010 to 2014 Ford F150 Raptor's legendary style LED fog light kit, therefore it is also called the Raptor style.
Q: Will these Raptor style LED fog lights fit my Ford F-150?
A: As long as your Ford F-150's model is 2004-2006 and comes with the factory equipped fog lamps, this product will fit. The raptor style LED fog lamps also fit the 2006 Lincoln Mark LT.
Q: How do I install this Raptor style LED fogs for my 04-06 Ford F-150?
A: The steps for installing the Ford F-150 Raptor style LED fog light kit is as follows: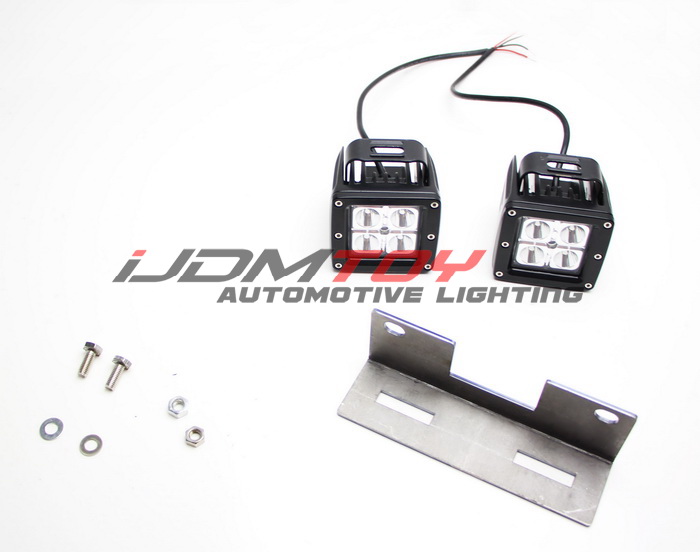 Step 1: Assemble the LED pod light with its U-shaped metal brackets. You can follow our guide on how to put together an LED pod lamp with brackets.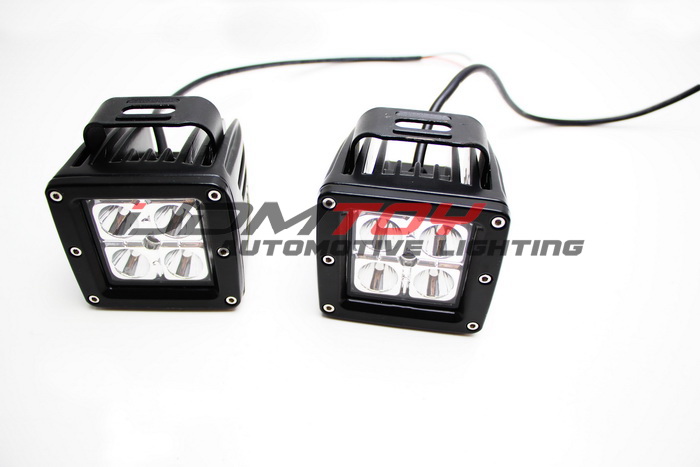 Step 2: Bolt the U-shaped pod light brackets with the metal mounting bracket. Route a bolt with spacer through the openings of the metal brackets. Thread a nut through the bolt on the other side of the metal bracket.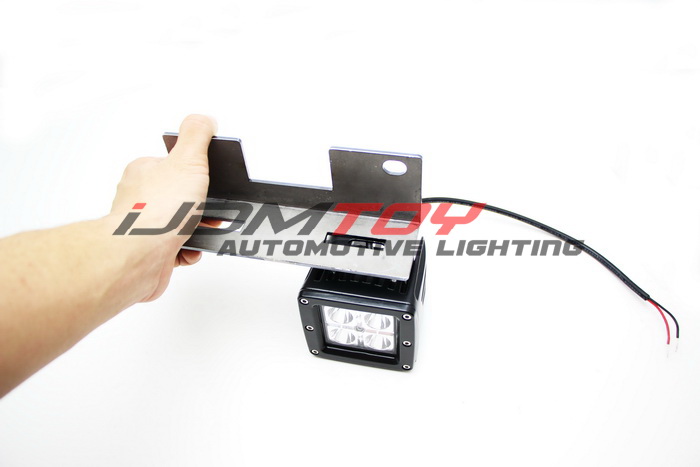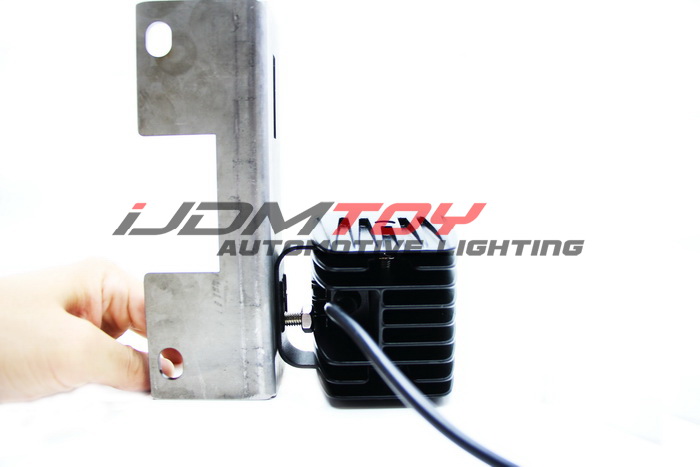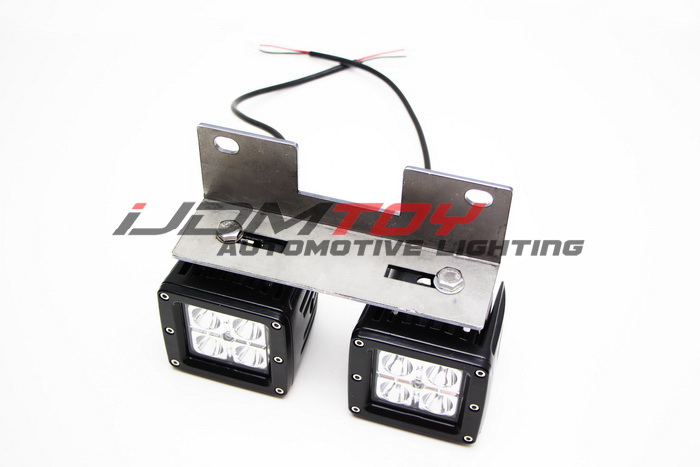 Step 3: Remove a screw on the wheel well and pull it back to expose the internal bumper area. Uninstall your Ford's existing pod light set up, including the OEM plastic bracket holding the stock pod lights. Remove the screws and undo the wiring to fully take out the pod lights.
Step 4: Mount the dual LED pod light/bracket combo onto your fog light mounting location. As you can see, the metal mounting bracket is a direct replacement of the OEM plastic bracket that comes with your Raptor. The holes on the edges of the metal mounting brackets match the location of the OEM plastic bracket.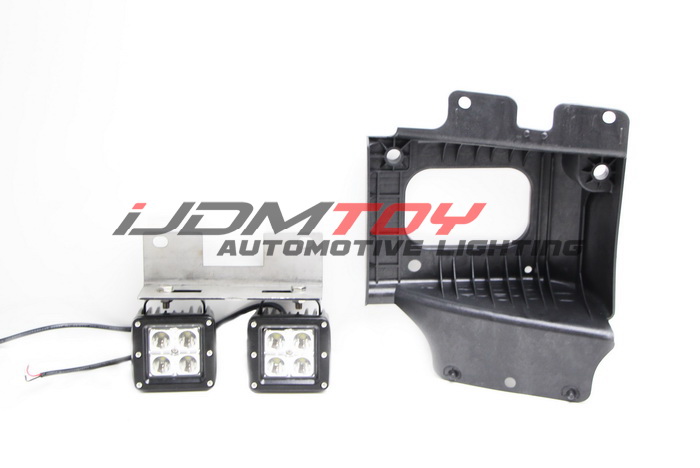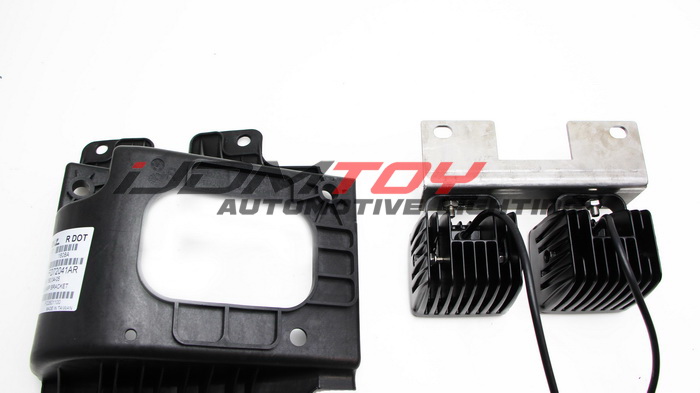 Step 5: Connect the LED pod light wires to an existing wire harness to power the dual pod light unit. Repeat the same steps for the other side of your Ford F-150.
Step 6: Test your LED pod lamps to make sure they light up. Once they do, close your wheel well to finish the installation. You can now enjoy your new LED pod lights!
Please visit LED pod fog light kit FAQ/tech support for more detail.