Behind Grille LED Pod Light Kit For 2009-14 Ford F150, (2) 20W High Power CREE LED Cubes, Behind Hood/Grill Mounting Brackets & Wiring Switch
Free Shipping Within 24 Hours.
Fit 2009-2014 Ford F-150 (excluding Raptor)
Complete LED foglamp kit includes (2) 3" xenon white 20W high power CREE spot beam LED pods, (1) set of industry grade metal constructed behind grille under hood bracket mounts and (1) set of relay wire harness w/ in-line fuse and on/off switch
Easy to install LED driving lamp kit features a 100% bolt-on installation procedures with no modification, cutting or drilling required
Hide the off-road LED pod lamps in the grill to keep your Ford F150 with a factory stock look with excellent lighting whenever you need it to RULE THE NIGHT!
For a complete industrial aesthetic, look to the 40W high powered CREE LED cubed pod lights for the Ford F-150!
This page features the 40W CREE LED pod light set, which comes complete with (2) LED pod lamp units, exclusively designed metal mounting support brackets to affix the podlamps behind the grill, and a relay wiring harness with switch.
Use this set of LED podlights to give your Ford F-150 truck a subtly placed but powerful LED lighting for a cool industrial look. The 40W CREE LED pod light set will fit the 2009-2014 Ford F-150. It will NOT fit in the Raptor edition trim.
Q: What truck will this set of LED pod lights fit in?
A: The 40W high powered CREE LED pod lights are made to fit behind the grille of the 2009 thru 2014 Ford F-150. This will NOT fit the Raptor edition.
Q: Do I absolutely need a relay harness wiring kit?
A: Although it's not absolutely necessary to wire your LED pod lamps to a relay harness, we highly recommend that you do so if you don't have one already. Connecting your LED pod lights to a relay harness will protect your Ford F150's circuits, since the relay harness has a built-in fuse, and ensures that it doesn't overload. Having your LED pod lights connected to a relay harness protects your car battery's longevity; turning your car off also turns off the LED pod lights. Additionally, our relay harnesses come with an on/off switch so that you can conveniently switch on/off your LED pod lamps whenever you need to.
Q: Are there any modifications involved in this installation?
A: No modifications will be needed in the installation process. The exclusively designed mounting brackets allow for direct replacement and easy bolt-on installation.
Q: Where do I mount the U-shaped brackets for the LED pod lights?
A: Locate the mounting holes on the far ends of your Ford F-150's grille. Run bolts through it and thread the U-shaped support brackets and nuts through the bolts to secure the U-shaped metal brackets.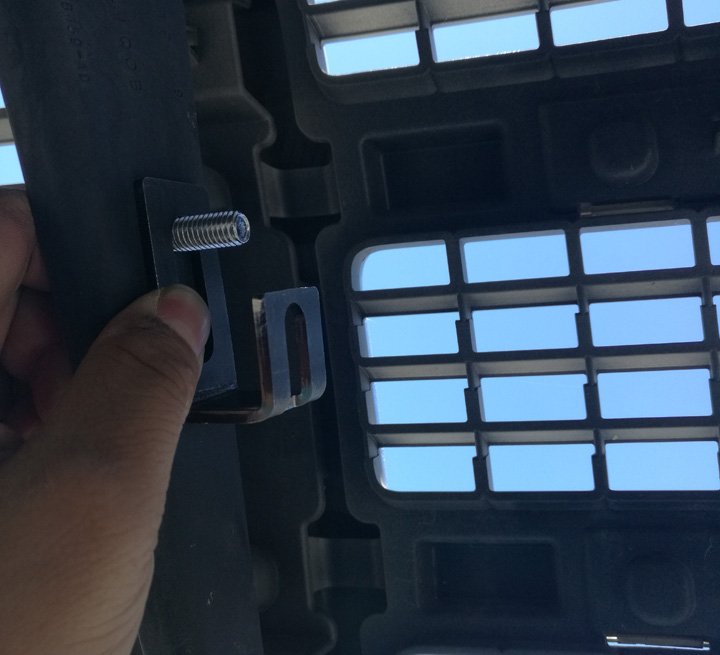 Q: I'm having trouble screwing the bolts into the LED pod lights. How do I get the bolts to thread through?
A: The holes are pre-drilled to be about the same diameter as the bolts to ensure a secure it when preassembling the dually flush mount LED pod lights There are two ways to thread the bolts successfully:
Use a flat head screwdriver to widen the top of the hole

Push the bolt down using the included Allen wrench tool and screw it in
Refer to this Youtube video for a visual reference: