LED Pod Light Fog Lamp Kit For 2012-15 Toyota Tacoma, (2) 20W High Power CREE LED Cubes, Foglight Bezel Covers, Mounting Brackets & Wiring Harnesses
Free Shipping Within 24 Hours.
Fit 2012-2015 Toyota Tacoma
Complete LED foglamp kit includes (2) 3" xenon white 20W high power CREE spot beam LED pods, (1) set of industry grade metal constructed OEM fog lamp area/location bracket mounts, (1) set of fog lamp bezel covers and (1) set of wire harness adapters
Easy to install LED fog/driving light kit features a 100% bolt-on installation procedures with no modification, cutting or drilling required
Clevely utilize the factory halogen fog openings and upgrade them to total 40W high power off-road killer LED lighting for a super bright output, allow you to completely RULE THE NIGHT!
This page features the set of (2) 20W CREE cubic LED pod lights for the 2012-2015 Toyota Tacoma.
The complete kit includes (2) 20W CREE cube LED pod lamps, a pair of OEM fog light mounting brackets, front plate cover, and a wiring kit. The exclusively designed custom mounting brackets make it easy to install and upgrade to the pair of LED pod lights. Use these cubic LED pod lights for a great outdoors and offroad look that looks modern but rugged at the same time!
Please note that some drilling WILL be required to install the front metal covers onto the LED pod lamps.
This pair of cubed LED fog lights are made to fit the 2012-2015 Toyota Tacoma. If your Toyota truck does not come with factory equipped fog lights, you will need an extra relay wiring harness in order to power the pair of CREE LED pod lights. (relay: amazon.com/dp/B00Q3DNW5I).
Q: Is there any modifications involved in the LED pod lamp installation?
A: Yes. You will have to drill a hole where the metal bracket bezel's bolt lies when you place the LED pod lamp assembly in. This hole will not be visible once you finish the installation and will not show up if you decide to put your OEM fog lights back in.
Q: One of my metal pod light bezel's mounting bracket is crooked so I can't slide in the LED pod light completely. What do I do?
A: We apologize for the inconvenience the crooked mounting bracket has caused. This likely occurred during the shipping process where it may have been mishandled. You may use your hands or any tool to bend either mounting bracket outwards so that it lays parallel to the other one. Slide in the LED pod lamp and secure it using the included hardware. Because the bent bracket is on the backside of the metal foglamp bezel, the cosmetic imperfection will not show up when you finish the installation.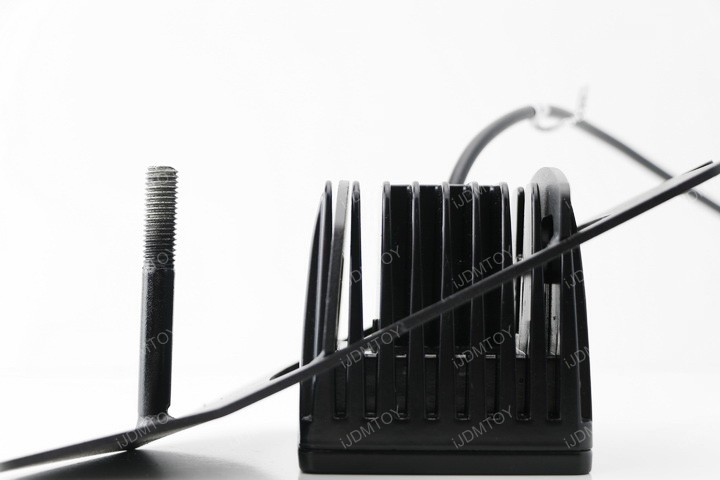 Please visit LED pod fog light kit FAQ/tech support for more detail.