Dual LED Pod Light Fog Lamp Kit For 2010-18 Dodge RAM 2500 3500, Includes (4) 20W CREE LED Cubes, Lower Bumper Area Mounting Brackets & Wiring Switch
Free Shipping Within 24 Hours.
Fit 2010-2018 4th Gen Dodge RAM 2500HD 3500HD
Complete LED foglamp kit includes (4) 3" xenon white 20W high power CREE spot beam LED pod lights, (1) set of industry grade metal constructed lower grill area/location bracket mounts and (1) set of relay wire harness w/ in-line fuse and on/off switch
Easy to install LED fog/driving light kit features a 100% bolt-on installation procedures with no modification, cutting or drilling required
Clevely utilize the factory lower bumper openings and add a total 80W high power off-road killer LED lighting for a super bright output, allow you to completely RULE THE NIGHT!
The high powered dual CREE LED pod light kit is just the thing you need if you want to add more power to your RAM's lighting capability!
This is a pair of LED pod lights fitted to be used as a powerful fog light. Your kit will include (4) 3" 20W spot beam CREE LED pod lights, a pair of specially crafted metal mounting support brackets, and a relay wiring harness with switch. Installation is made hassle-free thanks to the exclusively designed mounting brackets, which secures your LED pod lamps to existing mounting holes in the lower bumper, eliminating the need to drill, cut, or otherwise modify your RAM's front end. With an incredible 80 watts of power, a 5200 raw lumen equivalent, your RAM truck gains an aggressive new look that stands out both day and night!
The complete 80W high powered dual CREE LED pod light kit is made to fit the 2010-2018 Dodge RAM 2500 and 3500.
Q: What truck will this set of LED pod lights fit in?
A: The complete 80W high powered dual CREE LED pod lights are made to fit the 2010-2018 Dodge RAM 2500 & 3500.
Q: How do I install the dual LED pod light set on my Dodge RAM?
A: Step 1: Unbolt the screws securing the factory tow hooks. Remove the tow hooks.

If your Dodge RAM did not come equipped with tow hooks, you may use the pre-drilled holes in the same area to mount the metal support brackets.
Step 2: Bolt the metal mounting brackets behind the tow hooks by the mounting holes indicated by the red arrows below. Re-secure the bolts to put the tow hooks back on.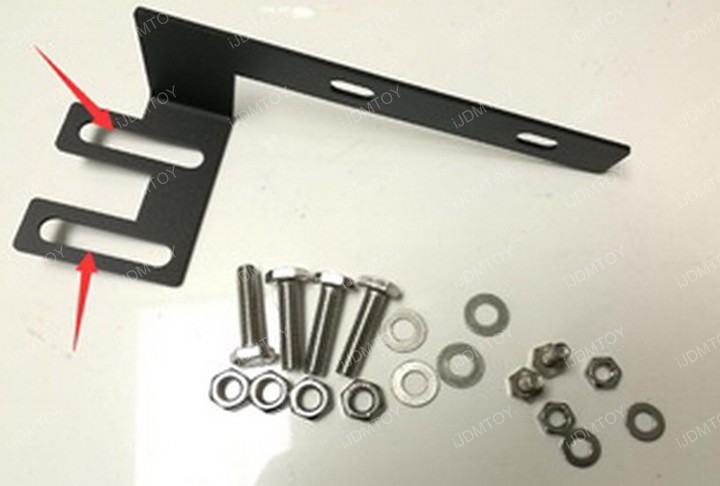 Step 3: Preassemble the LED pod lamps. Refer to the next FAQ on this page to learn how.
Step 4: Secure the RAM LED pod lamps onto the mounting brackets, threading the bolt upwards and tightening with nuts.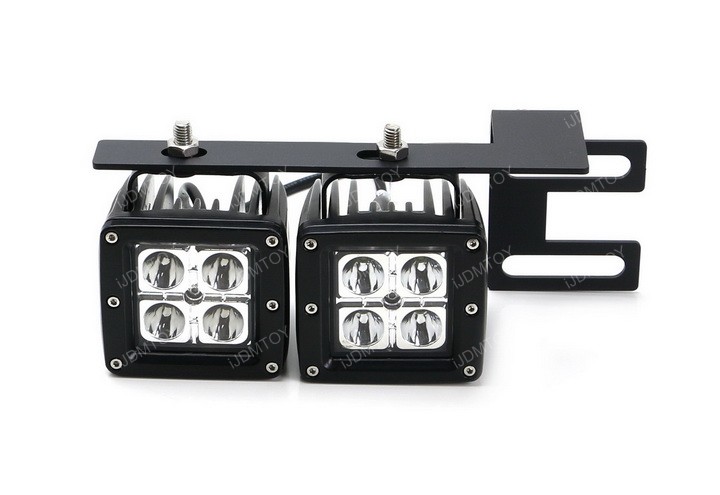 Step 5: Wire the dual LED pod lights using the included relay wiring harness with switch. Test to make sure each LED pod light is fully lighting up.
Please visit LED pod fog light kit FAQ/tech support for more detail.