Front Grille LED Light Bar Kit For 2017-up Ford F250 F350 Lariat King Ranch, (2) 30W CREE LED Lightbars, Grill Panel Mounting Bezels/Brackets & Wiring
Free Shipping Within 24 Hours.
Fit 2017-up Ford F-250 F-350 F-450 Lariat or King Ranch ONLY (will not fit Platinum, XL, XLT, or Limited models)
Complete LED grille mount kit includes (2) 30W high power CREE spot beam LED light bars, (2) a set of industry grade metal constructed grille panel mount bezels & bracket mounts and (1) set of inline fuse on/off relay wire harness
Mounts the xenon white LED light bars onto the front grille next to the Ford insignia to create a flush fit
Clevely utilize the front grille for a total 60W high power off-road killer LED lighting for a super bright output, allow you to completely RULE THE NIGHT!
Your Ford Super Duty is a unique truck in that it's a niche trim level of the Superduty F series. Within the F-250 and F-350, there are even deeper trim levels: the Lariat and the King Ranch. These Fords are as unique as you are and reflects how hard you work. Your Superduty truck should also reflect how handy you are, and what better way to do that than by adding a pair of front grille mini LED light bars?
This page features the pair of single row LED light bars made to fit the grilles of the following Ford trucks: 
2017-up Ford F-250 & F-350 Lariat or King Ranch
The truck LED lighting kit will include (2) 30W single row CREE LED light bars, a pair of front grille mounting bracket bezels, and a relay wiring harness with on/off switch. The specially designed metal mounting brackets secure the mini LED light bars tightly for an uncompromising mount that stands the rigorous test of your off-road driving. These support mounts also double as a front face grille bezel that contours to the shape of your Lariat or King Ranch's front grille and Ford emblem to create a super flush fit that looks professional. The small but powerful pair of single row mini LED light bars give your F-250/F-350 an industrial look and a bright white LED light that's perfect for work use day or night!
Please note: installation will involve drilling holes in the backside of your Ford truck's grille. The CREE LED light bars will NOT fit the Platinum, XL, XLT, or Limited trims. Refer to the second gallery image to see whether or not this product will fit in your Super Duty truck.
Q: Will this pair of front grille LED light bars fit in other Ford Super Duty trims?
A: This single row LED light bar pair is will NOT fit in the Platinum, XL, XLT, or Limited trims.
Q: Will the installation involve any modifications?
A: Yes, you will have to drill holes in the backside of your grille in order to mount the light bar brackets. See the picture below to find where the holes should be drilled to get a flush fit against your Ford Superduty grille. You may also follow our full grill mounted LED light bars installation guide.
Q: How do I assemble the mini LED light bars to the metal bracket bezels?
A: Step 1: Thread a nut, flat washer, and spring washer through the included hex bolts. Screw the hex bolts in on both sides of the mini LED light bar.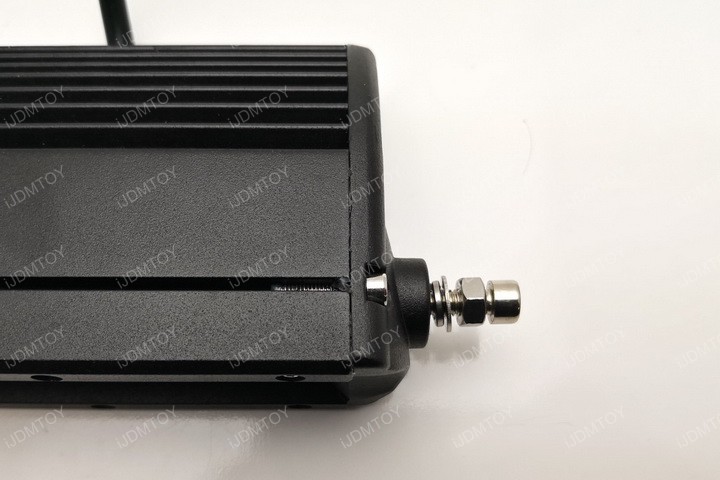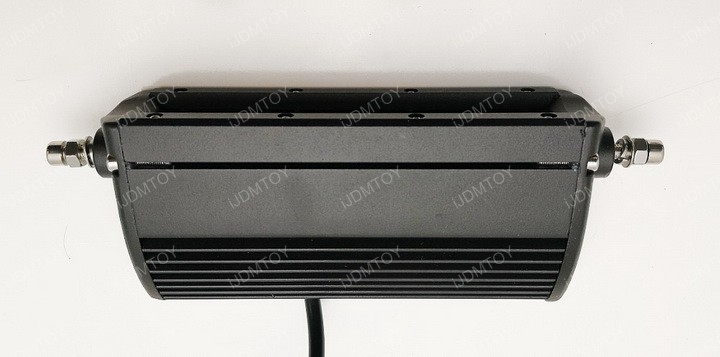 Step 2: Slide the mini LED light bar into the bracket portion, keeping the nuts on the outer ends.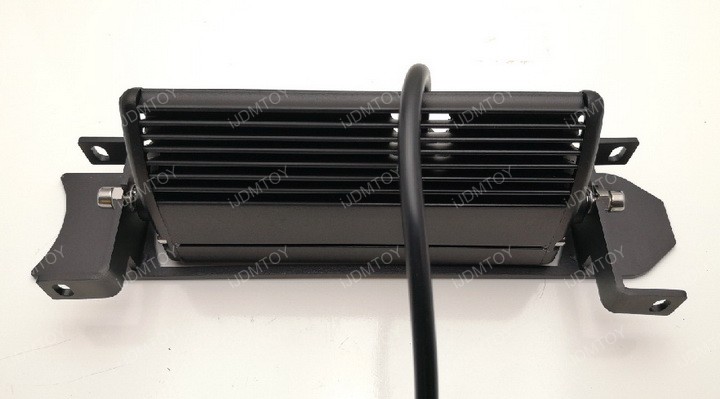 Step 3: Tighten the hex screws and nuts to secure the single row LED light bar onto the metal bracket bezels.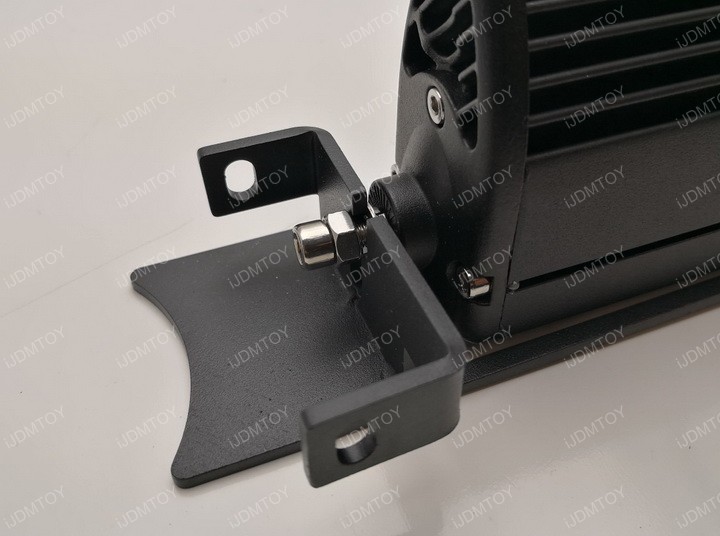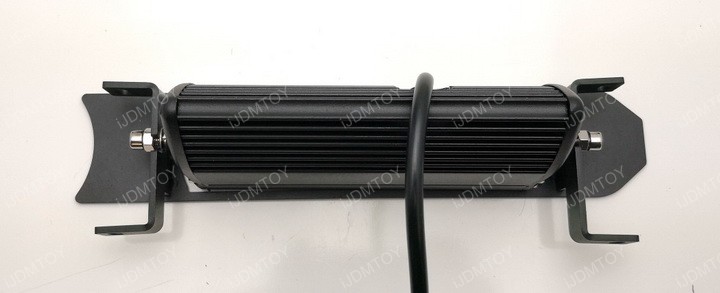 Please visit LED pod fog light kit FAQ/tech support for more detail.