Lower Bumper Fog Triple LED Pod Lamp Kit For 2010-2014 Ford F-150 Raptor, (6) 10W CREE LED Pod Lights, Lower Bumper Area Mounting Brackets & Wiring
Free Shipping Within 24 Hours.
Good for 2010-2014 Ford Raptor ONLY
Complete package includes 6 pieces single 10W high power LED pod lights powered by CREE LED diodes, a pair of heavy-duty black powder coated steel lamp mounting brackets, plus a set of extra long relay wire harness with a toggle switch
Mount up to 3 cube LED pod lights on each side with specially designed heavy-duty metal brackets unlike other brackets on the market allowing only 2 per side
Gives your Ford Raptor a killer off-road look and the extreme brightness that blends into your Raptor's original aggressive design
If you are looking for the most unique look for your Ford Raptor that's as powerful as it shines, look to the triple 10W high power CREE LED pod lights!
This page features the triple 10W high power CREE LED pod light kit made to fit the 2010-2014 Ford Raptor. Each package will include (6) single 10W high power CREE LED pod lights, a pair of black powder-coated heavy-duty pod lamp mounting brackets, and an extra long relay wiring harness with a toggle switch. Thanks to the exclusively designed metal mounting brackets you can mount up to THREE of these special LED pod lights, as opposed to two on other pod light kits on the market, to run as a powerful set of LED fog lights. The front-face design of these LED pods gives your Ford F-150 Raptor a unique, rounded appearance that complements the rough front-end exterior.
With the 6-piece set of LED pod lights, your Ford Raptor's fog light location is fulfilled with powerful LED lighting that enhances your front end look and your ability to see what's ahead.
Q: Do I absolutely need a relay harness wiring kit?
A: Although it's not absolutely necessary to wire your LED pod lamps to a relay harness, we highly recommend that you do so if you don't have one already. Connecting your LED pod lamps to a relay harness will protect your car's circuits, since the relay harness has a built-in fuse, and ensures that it doesn't overload. Having your LED pod lamps connected to a relay harness protects your car battery's longevity; turning your car off also turns off the LED pod lamps. Additionally, our relay harnesses come with an on/off switch so that you can conveniently switch on/off your LED pod lamps whenever you need to.
Q: My Ford Raptor has switches built into my interior. Is there a way I can hook up my LED fog lights so that I can turn them on and off using my switches?
A: Yes, there are a few steps you can take to wire your LED fog lights to your interior switches.
Step 1: Wire your LED pod lights to the included relay wiring harness. Remove the on/off switch and cover the socket with black tape.
Step 2: Find your hotwires that are connected to your aux switches.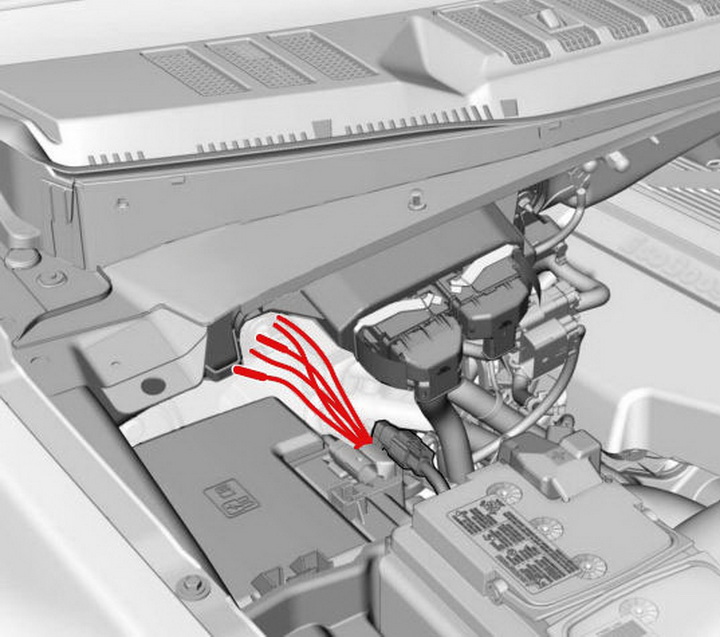 Step 3: Connect the factory aux switch input to the aux switch wire of your choice.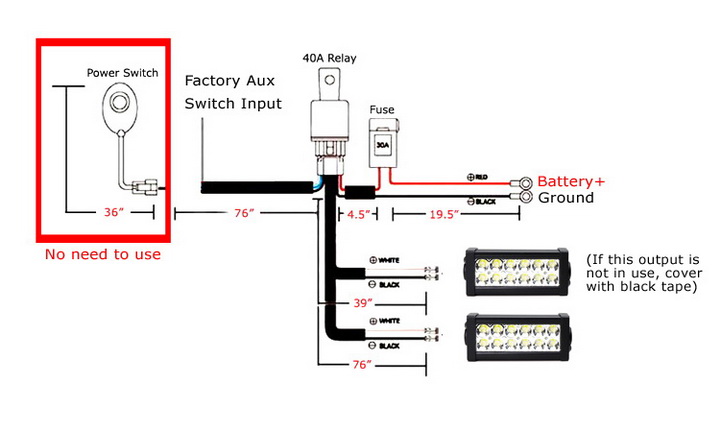 For more details, read our article on how to install LED products to use with Ford Raptor aux switches.
Please visit LED pod fog light kit FAQ/tech support for more detail.