A-Pillar LED Pod Light Kit For 2016-2023 Toyota Tacoma, (2) 20W High Power CREE LED Cubes, Windshield A-Pillar Mounting Brackets & Switch Wiring Kit
Free Shipping Within 24 Hours.
Fit 2016-2023 3rd generation Toyota Tacoma
Complete LED foglamp kit includes (2) 3" xenon white 20W high power CREE spot beam LED pods, (1) set of industry grade metal constructed near front windshield ditch/hinge mount brackets and (1) set of inline fuse on/off relay wire harness
Easy to install LED ditch mount searching/driving light kit features bolt-on installation procedures with no drilling required
Clevely utilize the front hood/windshield area for a total 40W high power off-road killer LED lighting for a super bright output, allows you to completely RULE THE NIGHT!
During off-road adventures, you'll need all the truck lighting that you can get on your Toyota truck. While you can get LED light bars set on your grille, did you know that your Tacoma can hold A-pillar lights? So if you are looking to cover every inch of obscurity in front of you, shine a light on your peripheral vision using the CREE LED pod light kit!
This page features the 40W high power CREE LED pod lights made to fit in the A-pillar area of the 2016-2023 Toyota Tacoma. Your package will include two 3" 20W CREE spot beam pattern LED pod lights, a pair of heavy-duty A-pillar mounting brackets, and a relay wiring harness with a switch. Each LED pod lamp is powered by four 6000K xenon white 5W XP-E CREE LED diodes which give you 1300 lumen of lighting output. Mount the LED pod lamps with ease using the exclusively designed custom mounting brackets that allow for direct bolt-on installation, saving you the hassle of drilling, cutting, or performing other modifications.
With the 40W CREE LED pod lights, your Toyota Tacoma will gain a formidable off-road look while shining a light in front of you in low light areas!
Q: What truck will this set of LED pod lights fit in?
A: The 40W CREE LED pod lights are made to fit in the A-pillar positions of the 2016-up Toyota Tacoma.
Q: Are there any modifications involved in this installation?
A: No modifications will be needed in the installation process. The exclusively designed mounting brackets allow for direct replacement and/or easy bolt-on installation.
Q: Do I absolutely need a relay harness wiring kit?
A: Although it's not absolutely necessary to wire your LED pod lamps to a relay harness, we highly recommend that you do so if you don't have one already. Connecting your LED pod lamps to a relay harness will protect your Tacoma's circuits, since the relay harness has a built-in fuse, and ensures that it doesn't overload. Having your LED pod lamps connected to a relay harness protects your car battery's longevity; turning your car off also turns off the LED pod lamps. Additionally, our relay harnesses come with an on/off switch so that you can conveniently switch on/off your LED pod lamps whenever you need to.
Q: How do I install these LED pod lights on my Toyota Tacoma?
A: Follow these steps to learn how to install the 40W CREE LED pod lamps:
Step 1: Preassemble the LED pod lights.
What you see below is the passenger side bracket and the driver side bracket, respectively. You will be:
Mounting the LED pod lights onto hole #1

Tying up the wires with zip ties using hole set #2

Bolting the pod light mounting brackets under your hood using hole set #3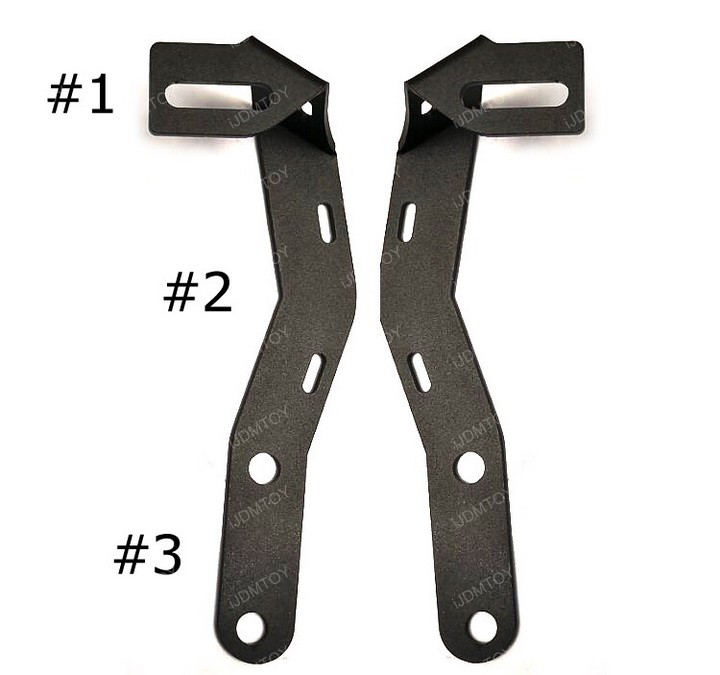 Step 2: Open your hood and locate your mounting holes. Take out the screws and bolt on the pod light mounting brackets by hole set #3.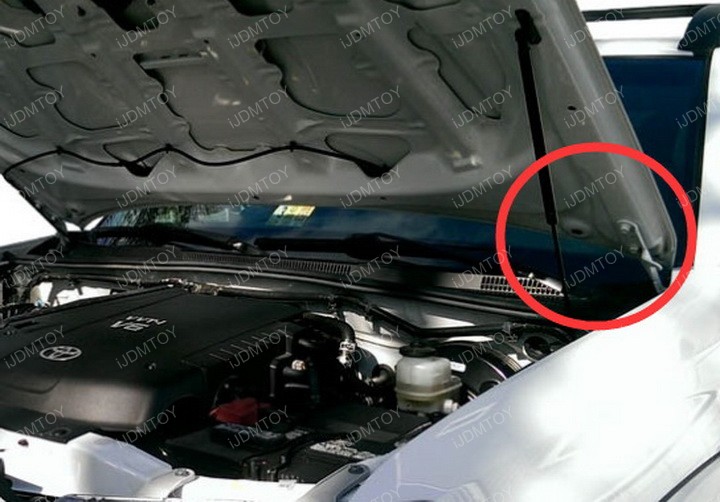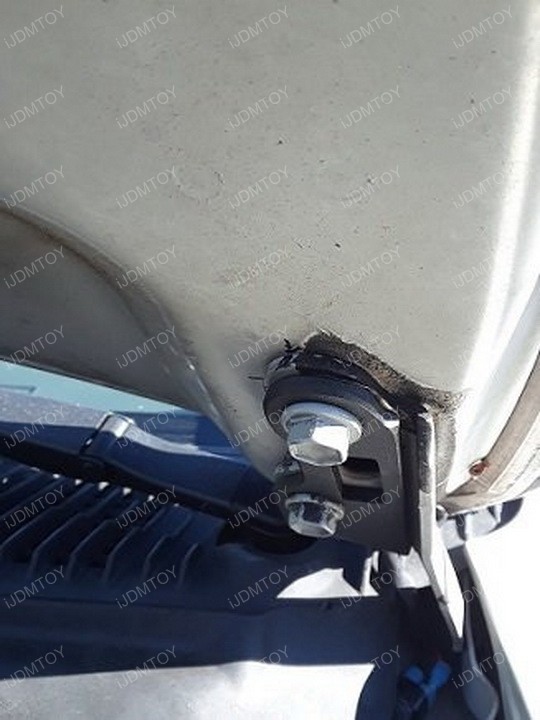 Step 3: Mount the LED pod lamps onto the metal support bracket using hole #1. Tie the wires to the metal mount brackets by looping zip ties through hole set #2.

Step 4: Repeat steps 2 and 3 on the other side.
Step 5: Wire the LED pod lights with the relay wiring harness.
Step 6: Test the LED pod lamps to make sure they fully light up. Once you have, close your hood to finish. You may now enjoy the high visibility provided by the A-pillar location LED pod lights!
Please visit LED pod fog light kit FAQ/tech support for more detail.