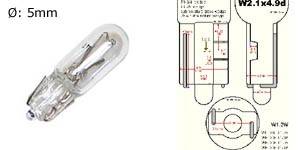 T5 wedge base bulb, will replace the following bulb size: 17 18 27 37 58 70 73 74 79 85 86 2721, etc.
Installation Guides & Articles
Q: How do I know how many such T5 LED bulbs do I need?

A: Since the Osram bulb size guide does not provide any fitment information for T5 bulb size, the only way to find out is to remove the gauge/instrument panel/speedometer, take off all the stock bulbs, check the size, count them and purchase them accordingly.

This general installation guide will show you how to install the T5 LED bulbs for the gauge cluster...(read more)

 

Please take a look at this video for how to install the cluster T5 LED bulbs step by step...