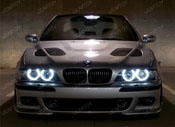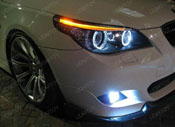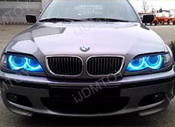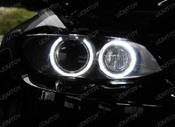 The BMW Angel Eyes were first introduced on the E39 BMW 5-series in the early part of the 21st century and has made a significant impact on the automotive styling culture. These angel eye rings (also known as corona rings by BMW) are fiber optic rings that reflect light within itself to create a uniform ring of light around the low and high beam lights. The factory source of light were dim, incandescent filament bulbs that created a dull yellow glow which is not the most desirable color for many car enthusiasts. 10 years later in 2011, BMW finally started to change their halo ring using the newer LED lighting.
So for all the BMWs stuck in between these 10 years, you can count on iJDMTOY's high power LED angel eye bulbs or LED halo rings to give your Bimmer this same all new LED look. Here we carry the most complete BMW angel eye products for all the BMW models in varieties of designs such as CREE LED Angel Eyes, Osram LED Angel Eyes, RGB Multi-color LED Angel Eyes, etc.
BMW Angel Eyes Shopping Guide
 
Installation Guides & Articles
This installation is based on a 2010 BMW X5 to show you how to install our best selling H8 angel eye ring marker bulbs. This installation will also apply for the BMW E82/E88 1 Series, E90/E91/E92/E93 3 Series, LCI E60 5 Series as well as E70/E71 X5 and X6...(read more)




We have two installation guides here for our best selling 5W BMW angel eye ring marker lamps for BMW E39 and E60 5 Series. Please keep in mind, for the E60 5 Series, since the bulb is hidden complete inside the headlamp, you have to remove the headlamp to gain the access. We have a video here to show you how to do this easily...(read more)

From time to time, we always have customers asking questions about our #S7 BMW angel eyes like why the inner ring is much brighter than the outer ring and sometimes why the outer ring is barely lighting up? In this article, we will explain what caused this to happen and how to fix this problem in couple simple steps...(read more)




iJDMTOY.com is proud to be the very first one to design this multi-color RGB LED halo ring kit for BMW E46 3 Series. Here we will show you how to properly mount the rings, how to connect the wires, and how to install the module box. We have also included several common troubleshooting tips about this product in case you encounter such issues...(read more)

In this installation guide, we will show you how to install the special ring marker bulbs for 2006-2008 Pre-LCI BMW E90 3 Series. To properly install this product, we highly recommend you remove the front wheels so you can get full access to the headlamp from the behind...(read more)




For the 1999-2006 BMW E46 Series, the headlamp has no halo ring design. However since this is a very popular BMW on the road, we've decided to make these aftermarket LED angel eyes for it. In this DIY guide, we will show you how to open the BMW E46 3 Series headlight lens and install these LED halo rings...(read more)
More DIY guides for BMW Angel Eyes
More articles about BMW Angel Eyes
Why the BMW angel eye outer ring is always dimmer than the inner one?
Please take a look at this diagram below that shows the way most BMW angel eyes are designed. There is a ring marker bulb located in the inner ring housing. When it lights up, it provides a direct illumination for the inner ring. However for the outer ring, the light needs to travel through the fiber optics tube, therefore it will appear weaker than the inner ring regardless of how bright this LED angel eye product is.