Search by Type
Installation Guides & Articles
This 2011 Kia Optima installed our all new 27-SMD-5050 1157 switchback LED bulbs for the front corner lights. When the headlight is on, the switchback LED turns on a nice 6000K HID matching xenon white color and when the turn signal is on, the LED bulbs switch to a rich golden amber color to make sure you stay 100% street legal... (read more)




Since the 3156/3157 or 7440/7443 LED bulb's base is made with PVC plastic, it is normal to have a 3-5% tolerance error. We made this DIY guide to show you how to properly and correctly install these LED bulb into the stock socket...(read more)

Thanks to Mario for providing us the pictures for the 7443 switchback LED bulbs installation guide based on his 2013 Scion FR-S. The installation is very easy, simply replace the stock 7443 bulbs with switchback LEDs and add resistors to prevent hyper flash... (read more)




Why do you need load resistors? Resistors prevent the LED turn signal bulbs from hyper flashing. Here is a video comparing the same LED turn signal light bulb without the load resistor. It blinks faster than normal. After you tap it with the load resistor, the LED bulbs will blink at the normal speed (about 0.8-1.0 second per blink)

This YouTube video will help you get a better understanding on how the switchback LED bulb functions. During the daytime, when the parking light is off, the switchback LED bulb blinks amber-off-amber-off. At night when the parking light is on, the switchback LED bulb lights up xenon white and blinks amber-off-amber-off. When the turn signal is off, it goes back to white.




Besides adding load resistors, you can also prevent hyper flash on some newer Toyota, Lexus and Scion vehicles such as Toyota Tundra, Lexus IS, GS, RX and Scion FRS, tC or IQ using the 81980-50030 8-Pin LED Flasher Module Box. Here we will show you step by step how to locate it and replace it with the LED flasher...(read more)
Switchback LED Lights Turn Heads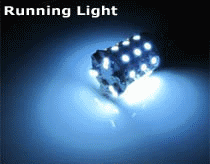 Switchback LED lights are also known as dual-color LED, which are dual-function LED bulbs or LED strips that stay lit as xenon white in parking/position light mode and flash amber when the turn signals are used. These are specifically designed for front turn signal lights or daytime running lights.
iJDMTOY is the very first company to invent this two-color LED products now carries this kind of switchback LED in many different sizes such as 1157, 3157, 7443 and even carries a retrofit type of single filament 7440 as well as switchback LED strips and daytime running lamps for car front end customization.
This kind of switchback LED will give you a nice HID-matching look when operating as the parking lights and are legal since they flash amber when the turn signals are used!
More about LED turn signal light DIY guides
More articles about dual-color switchback LED products