Installation Guides & Articles
This DIY guide will show you step by step on how to install our universal fit LED interior panel board for a car center dome light. We have both pictures and a YouTube video to guide you thru this installation process...(read more)




Toyota is very experienced and has been getting their feet wet in LED technology world for quite some time now. Lexus, a subsidiary of Toyota has been integrating LED lights into their higher end models such as the GS350 and LS460. Strangely enough, the hybrid CT200H utilizes incandescent interior lighting...(read more)

Since the BA9 adapter is not two sided, so it is impossible to flip it around in case the polarity does not match. However here we will show you an insider tip on to to fix the polarity mismatch issue for the BA9 adapter...(read more)




Introducing the new LED panel lights that will fit perfect in the car's interior map or dome lights. These lights come with dual connectors that will fit wedge or festoon housings. The size is only 1.37" x 1.05" for an easy fit and feature 9 bright SMD LED pieces attached to the panel. These LED panel lights are unlike traditional LED light bulbs. They are able to produce 4 to 5 times the brightness...(read more)

In this DIY guide, we will show you how to use the small-size LED light panel to replace the stock 168 bulb for the side door courtesy light. Since the LED panel has a wider area, so it can light up much brighter than a conventional LED bulb...(read more)




Recently, a customer of us installed our iJDMTOY LED bulbs for his 2004 Audi A4. After the installation, his car was transformed into a very cool sparkling blue look. The car LED lights we used for this Audi A4 are: 12-SMD LED Panel Lights and the 2825 T10 LED Bulbs. The LED map lights – reading lamps (map lights) have 12 piece SMD LEDs which give a superior lighting in a broad and wide area...(read more)
One Size Fits All: LED Interior Panel Boards
Do you like the stylish LED interior light, but don't know the stock bulb size? Now you can get our guarantee-to-fit universal fit LED interior light panel boards. All our iJDMTOY LED light panels come with a T10 adapter to fit the 2828 168 175 or 195 sockets, a BA9 adapter to fit the 64111 or H6W sockets and a length adjustable festoon adapters to fit all sizes of tube shape sockets such as DE3175 6418 211-2 578, etc. All you need to find out is if the LED panel dimension is suitable (smaller than) for the interior lamp you are about to install and that's it!
Besides its no-brainer universal fit, the LED light panel also has a wider surface area than a LED bulb, therefore it will illuminate a wider area and will be much brighter than a LED bulb with the same amount of LED emitters.
Installation guide
Turn off the dome light first
Remove the dome light cover using a small flat-head screw driver
Make sure the stock bulb is not hot and take it off from the socket
Install back the corresponding adapter came with the LED panel light (make sure to test see whether the LED lights up before proceed to next step)
Remove the double-sided tape on back of the LED panel and stick the LED panel light inside the dome light housing
Put back the lamp cover and enjoy!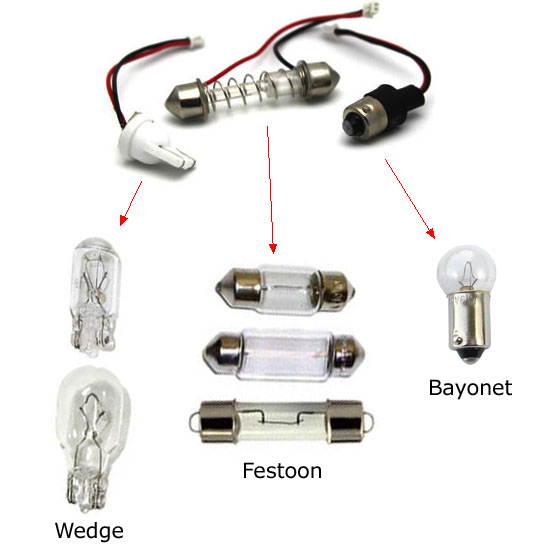 Here at iJDMTOY, we offer our LED panels in a variety of sizes and the dimensions of each are provided in the description. Please make sure you check the size of your light housing and the size of the panel before purchasing. Please take a look at this picture below, make sure you choose the LED panel smaller than the interior lamp housing to ensure the fitment.

More DIY guides for LED panel lights
More articles about LED panel lights