--------Shop Nissan Parts & Accessories--------
--------Nissan Gallery Pictures--------

For more pictures of our customers installed the LED lights on their Nissan, please visit our Nissan Gallery
--------Nissan News and Updates--------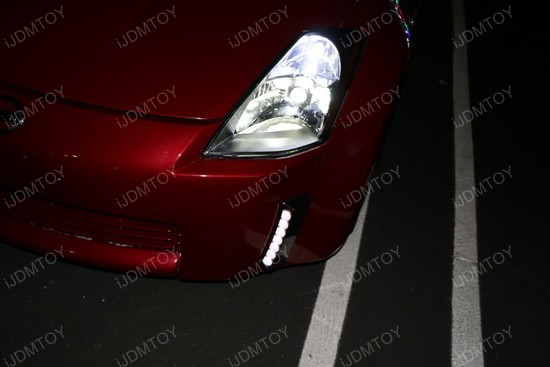 Want your Nissan 350Z looks like the new 2013+ 370Z with a stylish vertical front bumper reflector LED daytime running lamp? This is what you must have. Not only the LED daytime running lights improve the safety alerting the pedestrians, but also make your car looks more stylish and more eyes catching on the road.
Since the 2003-2005 Nissan 350Z are not equipped with daytime running lights, we have a new LED daytime running light that would be a direct replacement on the front reflectors of the 350Z. Why keep the reflector when you can go with a LED daytime running light kit that bolts directly on. The Nissan 350Z Front Bumper Reflector DRL LED is a great upgrade to the front end by bringing life back into the vehicle...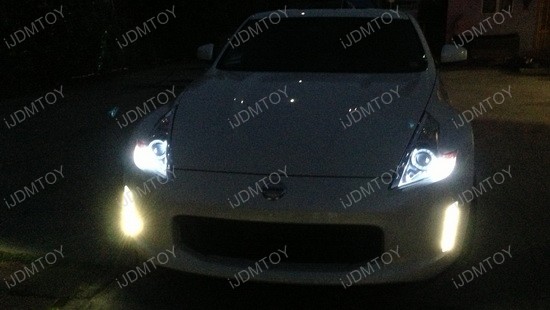 The LED DRL Enable Kit also comes with our popular 10-SMD 5730 T10 LED bulbs as well that change the color of the factory incandescent yellow to a more up-to-date 6000K Xenon White which will closely match the color of the factory LED daytime running lights.
Use this kit to turn your 370z's daytime running lights into how the European vehicles operate, by allowing it to be on during the night and day...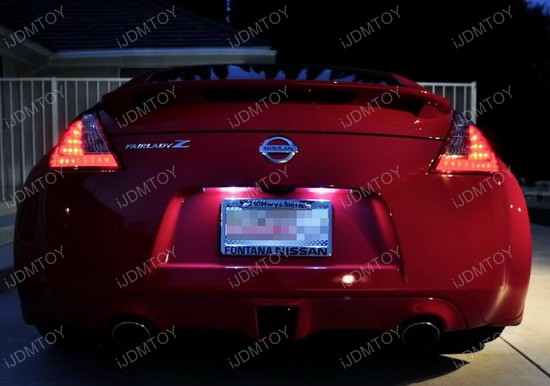 The 2013 Nissan 370Z is a fantastic performer with great power and handling and when some more style is added with License LED Bulbs, it's simply outstanding.
This is exactly what happened with this 2013 Nissan 370Z – the very first thing that the owner did is to install iJDMTOY 5-SMD-5050 168 194 T10 LED bulbs for the license plate lights. The featured license LED bulbs have 360 degrees shine design and 5 pieces super bright 3-Emitter 5050 Type SMD LED lights which deliver great output...
For more news and updates about Nissan, please visit our Car LED blog