2005-2007 Ford F-250 Installed w/ Lower Grille LED Light Bar Kit
LED light bars are becoming more and more popular out on the road nowadays and you can see lots of trucks, SUVs, and other utility vehicles sporting them on the lower
bumper, the grille, or on the upper windshield. This is a 2005-2007 Ford F-250 LED light bar that sits nestled in the lower bumper and produces quite a lot of lighting both on and off the road. The entire LED light bar kit comes with the heavy duty, 120W LED light bar and a pair of exclusively designed metal mounting brackets that allow for a direct and easy bolt-on installation without any modification required. People who hate to cut up or drill into their truck will definitely love this LED upgrade since there's absolutely no modifications involved.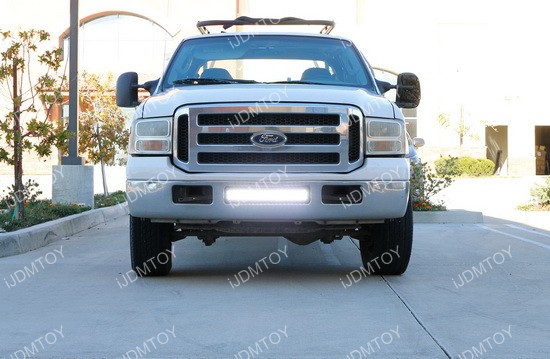 If you have a 2005-2007 model Ford F-250, then this LED light bar is a definite installation that you need on your truck. The Ford F-250 LED Light Bar Kit is a great way to spice up your truck, all the while giving it adequate lighting for a safer drive. You will be seeing more and more LED light bars on the road, so it's time to get on the light bar train and install one of these heavy duty add-ons.