An LED Light Bar Breakthrough in GMCs
Occasionally, we rent GMCs from U-Haul to transport our products because we find their service to be reliable. We can always count on them to provide clean pick-up trucks with no issues. This time around, we discovered an opportunity to test our new LED light bar. The opportunity especially worked out because the GMC model we rented was a Sierra 1500, which was exactly the trim we wanted to test on. And so, we decided to take liberties with our rental truck to install our new behind the grille 150W LED Light Bar for the 2014-up GMC Sierra 1500.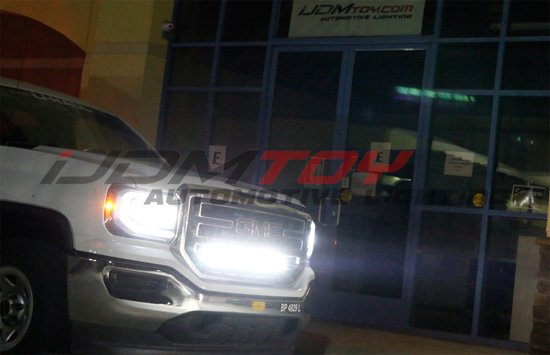 We developed a new LED light bar mounting bracket system because there isn't an obvious space to install one. In the past, Chevy Silverados and GMC Sierras featured a gap below the grille that had just the right amount of space to install an LED light bar in. However, the current generations of these off-roading trucks no longer have such convenient gaps. This prompted us to figure out a way for Sierras and Silverados to still feature powerful flooding lights. After discovering the amount of space behind the grille, we thought that was the perfect place to mount our LED light bars. So we designed a support bracket system that allows for mounting behind the grille. This not only solves the problem of not being able to install an LED light bar, but also adds flair to the Sierra's grille as light shines through brilliantly. We've proven that nothing is impossible when it comes to off-road LED truck lighting.