Command Attention with Amazing Scion LED Brake Lights
Toyota officially scrapped its Scion line in August of last year in response to young adults' changing attitudes about the Toyota brand as a utilitarian brand for their parents. They have become more and more practical in the past few years. I fall in this demographic and despite being disappointed about the Scion brand being buried, I actually agree with this decision. As a high schooler, I thought Scions were really cool looking but as I grew older I slowly changed my mind about them; I didn't see myself driving a Scion for too long cause I felt I'd outgrow it before long. While the brand scrapping is still fresh, this still means that Scions are becoming rare and vintage, qualities which are pillars of the JDM world; it doesn't matter how old a car is as long as it's a decent enough body to work with right? Scions have a sleeker and sportier look than most other cars which makes for great bases for aftermarket parts such as the brilliant red LED 3rd brake light DIY conversion kit.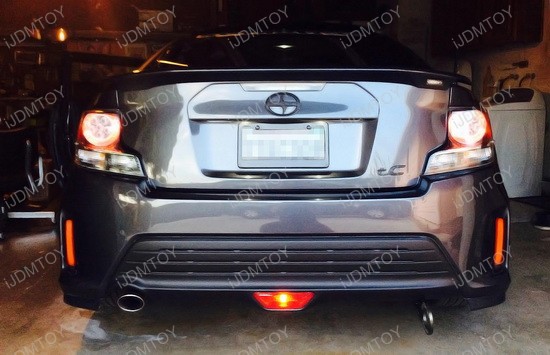 The LED 3rd brake light conversion kit brings a much brighter light to your Scion's lower bumper, and commands the attention of drivers behind you. While retaining your OEM tail light lens, you can easily replace your stock halogen lights for a more vibrant look that will catch the eyes of many drivers behind you. A dear customer named Mikey decided he needed this for this 2016 Scion tC. He discovered our LED 3rd brake light conversion kit online and made a purchase after looking over other options from our competition. Mikey's kit includes a drill bit, quick splices, an LED emitter, sockets, and wires. It's powered by a super bright 18-SMD 3-emitter 5050 LED bulb and can function as a brake light and a rear fog light. The LED rear fog light kit not only fits his Scion tC but also the Nissan 370z, Juke Nismo, and the 2 + 2 boxer engine triplets of the Toyota 86, Scion FR-S, and the Subaru BRZ. After going through the installation process of removing his tail light lens, drilling a socket hole, slightly shaving the socket itself for a great fit, and wiring the LED brake light kit, Mikey tested his LED tail end fog light and discovered improved brightness and a more JDMesque shine, much to this delight. He did not waste a second to share his results with us. You can definitely tell the difference between his 2 brake lights and the LED 3rd brake light, as it is more vivid and boasts the brilliant red glow.