Ford F-250 Lower Bumper LED Pod Lamp Kit
LED pod lamps are the new lighting upgrade for trucks and other off-road vehicles nowadays, and it's not surprising due to their brightness and versatility both on and off the road. With that said, what we have here is a set of high powered Ford F-250 LED fog lights that completely illuminate the road from the lower bumper location. These LED fog lights have a whopping 40W output so that you can use the assembly under all weather conditions. Each kit comes with the pair of LED fog lights, the mounting brackets, wiring harness, and on/off switch so you get a full and complete setup. Since the kit is all-in-one, you don't have to worry about finding individual components, giving you more time to enjoy the amazing LED fog lights.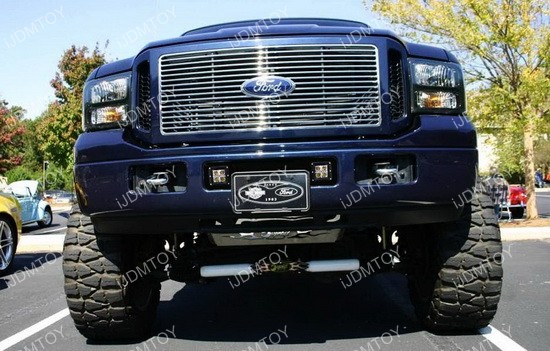 The Ford F-250 LED pod lights gives your truck an extremely aggressive look that matches its stance. It's important that your Ford F-series truck has lighting that is on point, so this kit is a great option since you won't have to worry about not having enough lighting when you need it the most. Upgrade to these LED pod lights and you will see why they are highly renowned in the truck industry.