Get That JDM Look with the LED DRL Bezels for the Subaru WRX
The Subaru WRX/WRX STi is one of the top choices for drivers who are into JDM cars because it is extremely easy to modify and is a sporty looking performance car. Since
JDM enthusiasts like to make their ride look as JDM as possible, they tend to outfit their cars with upgrades that are inspired by Japan. A very popular upgrade is the JDM LED daytime running lights, but since its OEM JDM, the price gets pretty costly. Fortunately for drivers who love JDM styled parts but don't want to spend OEM JDM costs, there is a new set of Subaru WRX JDM LED DRL Bezels that transforms the 2015-up USDM Subaru WRX/WRX STi to look super JDM.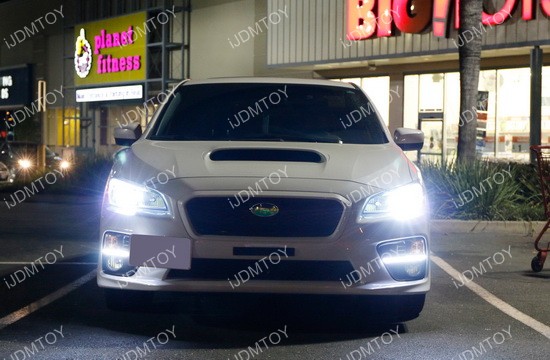 These JDM LED bezel for Subaru are powered by a full LED strip so both sides of the assembly have an even, illuminating output. This means that the LED is not centered
only in the middle of the assembly, like the OEM version. Rather, you get a continuous, fluid look that is both classy and bright. Plus, the bezels are finely crafted with a sleek piano black finish that completely elevates the fog lamp location. The price of these WRX LED DRL bezel is only a fraction of the OEM JDM version, so you save tons of money, look fantastic, and have extra options to make your WRX look more JDM.