How Do LED DRLs Make Your Porsche Stand Out?
In many people's eyes, daytime running lights (DRLs) are a function that are just there; it only exists so other drivers can see you. DRLs aren't very exciting to talk about either because they are not very bright nor are they fun to look at. And if you're not a car fanatic, you might not even know that DRLs are a part of your headlight assembly! (honestly what normal person can tell?) However, one dear customer DOES know what they are and knows how to utilize the Audi A6-style xenon white LED daytime running lights to its full potential.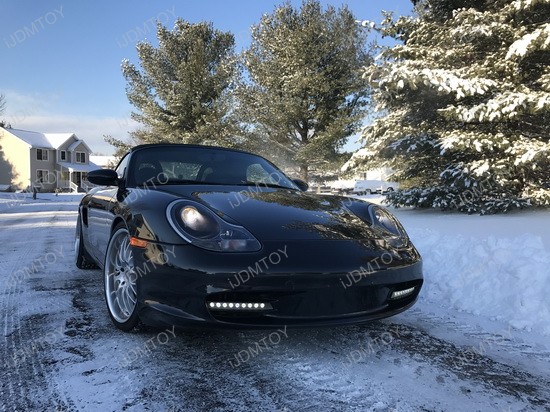 Jeff de Haes ordered our LED daytime running light kit online to enhance his 2003 Porsche Boxster 986. His Audi-style DRL kit is powered by nine FLUX LED diodes (0.25W per emitter) in each housing. While this set of LED daytime running lights fit best in a 2005-2008 Audi C6, A6, or S6, the design allows for a nearly universal fit on most vehicles, measured at 12" in length, 1.25" in depth, and 1.75" in height. Installing the Audi A6 style LED daytime running lights was a clear cut matter for Jeff. He simply reassembled the daytime running light kit, removed his Boxster's stock fog light bezel, replaced it with the LED DRL, and wired them to the side marker or parking light harness. While there are many other aftermarket daytime running lights made to fit the Porsche Boxster, none quite matches the look of iJDMTOY's LED DRLs. In the picture above you can tell how noticably bright the LED daytime running lights are compared to Jeff's stock headlights. The individual diodes pop out and are more noticable than standard OEM DRLs on other cars. The xenon white color temperature aids in the DRL's visibility by not only being brighter but also contrasting well with the black paint job of the Boxster. How beautiful does Jeff's Porsche look in a winter wonderland? This photo was taken in January 2017, a peak time for snowfall. The snow-kissed trees provide a wonderful contrast to the 986 roadster, creating a balance between the natural setting/brightness of the top half and the shadowcrested/darker lower half. We adopted the daytime running light design of the Audi A6 so that cars such as Jeff's Boxster 986 can achieve the same superior strip light aesthetic. While most daytime running lights are built into the head lights, this LED DRL assembly sets itself away from it to maximize its visibility and presence.