Mercedes Benz Star With LED Illuminated Base
If you're someone is out and about on the road quite often, you will notice the iconic Mercedes Benz out there that have a special light up emblem that is exclusive to
Mercedes Benz only. The illuminated Mercedes emblem is so eye-catching and when you combine the light source with the extra large emblem, everyone will be guaranteed to notice. The illuminated emblem has gotten so popular that many Mercedes Benz owners are looking to swap out their non-illuminated version for its illuminated counterpart. From the factory, the illuminated emblem is only available on the higher trims and more premium models. Fortunately, the iJDMTOY Mercedes Benz illuminated LED base allows Mercedes owners to swap out their standard emblem to a base that lights up the factory emblem for a look that is just like the premium trims.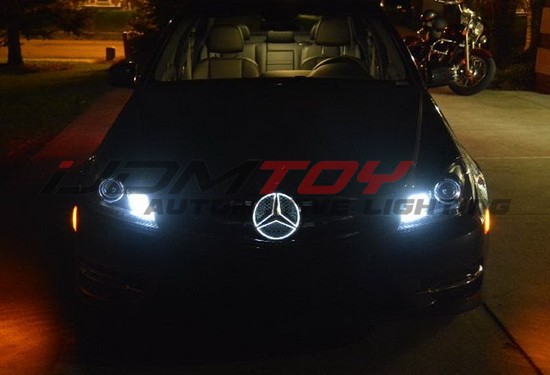 The Mercedes LED illuminated base replaces the original base to light up the Mercedes' OEM 3-point star. You will be able to get your original 3-point start to light up, and no one will be the wiser and think that you got the premium version. Other drivers on the road will only be able to see what the exterior of your car looks, so if you've got that light up LED emblem, you'll appear to have the premium trim and pretty much have the same perks.