Mount an LED Light Bar Behind the Grille of Your Toyota 4Runner
When you've got a beast like the Toyota 4Runner, you definitely want to utilize everything this car has to offer. If you want an additional lighting feature, you can install the Toyota 4Runner LED light bar right behind the grille as an upgrade. The ultra slim, 32" LED light bar gives your 4Runner quite a formidable look and peeks out from behind the grille to give you a fierce look that complements the aura of the SUV. The LED light bar kit comes with the super slim light bar as well as all of the mounting accessories that you'll need to make this installation successful. There are no surprises so you know exactly what you're getting, for a hassle free installation.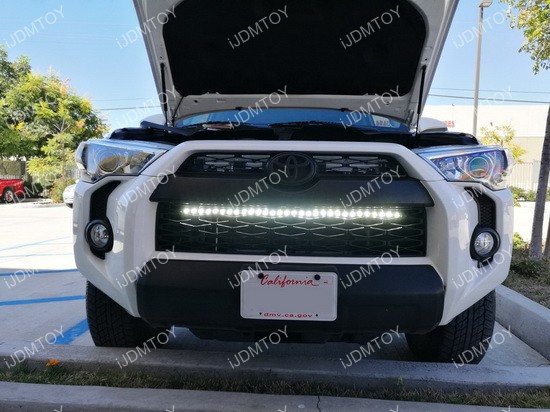 The owner of this 2015 Toyota 4Runner dropped by our storefront to test fit this LED light bar assembly and you can see that the results are pretty phenomenal. The way the Toyota 4Runner LED assembly peeks out from behind the grille almost makes the light bar semi-invisible when its off, and springs into action whenever the LED light bar is turned on. If you are the owner who takes the 4Runner to work as a daily and also uses it for off-road driving on weekends, then this LED light bar will definitely be a great addition.