Otaku Thursday is an Anime Treasure Trove for Gearheads
A few weeks ago I posted some JDM cars on social media featuring anime stickers and full body wraps from my second ever carmeet experience. Coming in not knowing what to expect, I arrived with a friend and armed with a piss-poor Oneplus One camera phone, I began taking pictures of almost all the cars that I could.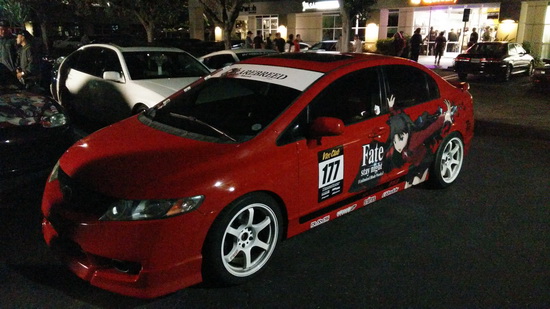 Otaku Thursday is a bi-weekly car meet that is held at a Quickly's located deep in Irvine by the Blizzard Entertainment headquarters. Featuring JDM cars wrapped in anime inspired stickers, called itasha, this car meet hosts drivers from all over the greater LA area and Orange County who are hardcore Japanese anime fans (otaku or weeaboos) and showcase their passion for their favorite shows and cars. As far as the variety of cars to be seen, the cars that arrived were pretty run of the mill. The Otaku Thursday car meet featured many JDM cars and roadsters that you'd expect to see in other typical meet ups such as the Scion FR-S/Toyota 86/Subaru BRZ, Honda Civic, and Mazda MX-5 Miata. Although what can you really expect from a Japanese anime themed meet up?
Quite a bit actually. Of course you're gonna see Japanese makes and models in a gathering of cars that is steeped in Japanese culture. The exhibition isn't so much about the cars themselves but the wraps, decals, and stickers (slaps as I discovered they're called) they brandish. There were only a handful of cars that were committed to a full wrap (working on itasha is a very expensive hobby) but the few that did were very well done.
Many cars I saw only used slaps as decoration but featured them well in their own right.
One of the more surprising cars I discovered were borderline clunkers such as this old school Toyota that was stripped of everything including the radio, AC, and passenger seats leaving only a race seat, JDM style mirror, and a blue LED strip light. It features Kongou from the anime series Kancolle: Kantai Collection.
Finally, at its very core this car caucus was a carmeet so I knew for sure that I was gonna see non-anime enhancements. Just as the Toyota coupe was fitted with an LED strip light, a handful of cars upped their LED car light game such as this Scion FR-S, which had a set of RGB angel eye halo rings retrofitted onto its headlights.