Retrofit Your Dodge RAM with RGB LED Halo Rings
Halo Rings are probably one of the most recognized lighting designs on cars nowadays, ever since they were first introduced on BMW. There are plenty of retrofit halo rings available for all kinds of cars and trucks, plus halo rings come in tons of colors as well. Check out this Dodge RAM with RGB LED halo rings for projector headlight retrofit, and see what an upgrade this lighting addition does to improve the aura of the truck. The specially designed ring shape is a great fit for the 2013-2016 Dodge RAM and the brightness is two times brighter than those run-of-the-mill conventional RGB rings on the market. These Dodge RAM RGB LED Angel Eyes definitely transform your truck into a formidable display of heavy duty form with an incredible light show on top.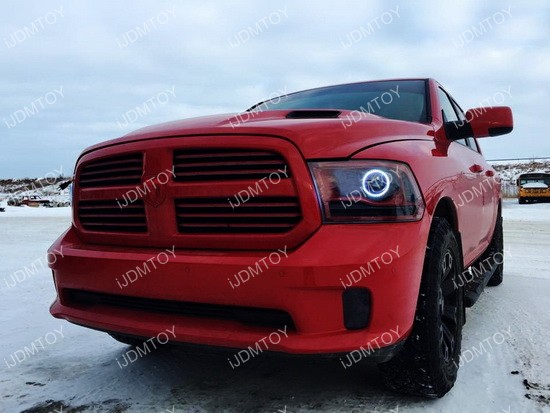 Each RGB LED Angel Eyes kit comes with a special wireless remote that will allow you to fully control the color function of the angel eye rings anywhere within 60 feet,
without you having to actually point the remote control to the receiver. The halo rings have 16 different color changing modes with an assortment of available colors: red, green, blue, amber, magenta, cyan, and white in the set. If you want your Dodge RAM to be off-road/show ready, but still want maximum functionality on the city streets, then these Dodge RAM RGB LED Angel Eye Kit is the one for you.