Slim Chevy LED Lightbars Take On The Road Ahead
I'm sure that you have seen Silverado trucks and the like drive around with an LED light bar on top in your area, some less than others like me who live in SoCal. But they do pop up every once in a while! Whenever I see one drive by, generic rock music plays in my head as I think about how macho and freaking big the truck that whizzed past me was. And then I see the LED light bar set on top and I think, "Man that must be super bright. Would I get blinded looking at it?" So a typical LED light bar gives drivers the visibility they need for mountain driving, dark, rural areas, and construction sites while giving the truck a rugged, manly, and macho feel to it right? What about the lower bumper grill mounted 20" 100W LED light bar for the 2011-2013 Chevy Silverado 1500? Perhaps... not so much.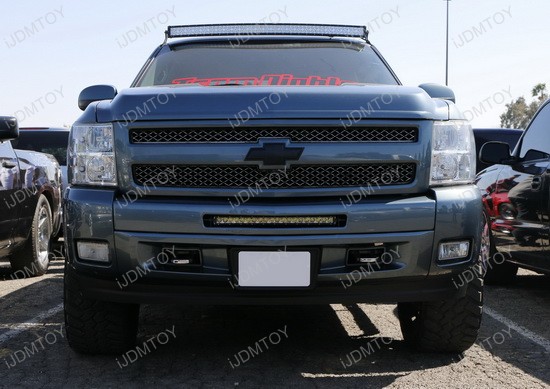 Let me explain. Our 20" 100W LED light bar is made for the 2011-2013 Chevrolet Silverado 1500 and the 2007.5-2010 Silverado 2500HD and 3500HD. Its metal mounting bracket is specially designed to fit in the lower bumper slot that you see in older Chevrolet trucks. The steel support brackets directly mount to the Silverado's factory bolts inside the bumper lower grill which allows for easy bolt-on installation with no drilling, cutting, or otherwise modifying at all.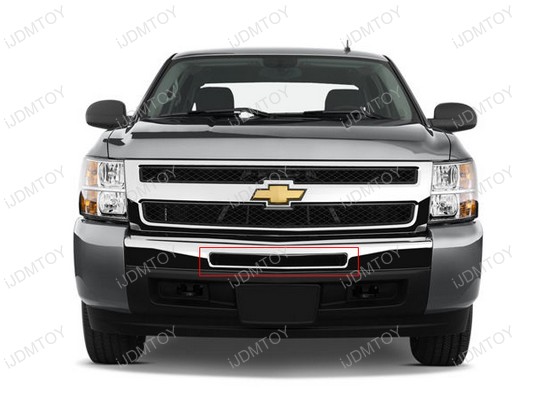 So unlike the rooftop LED light bars featured in these pictures, this 20" 100W LED lightbar is more subtle than our other selections. Because it is discreetly set in the front lower bumper slot, it may not be as eyecatching. But just because you can't see it, does not mean it is any less powerful. LED light bars are best featured at night when they truly shine. Whereas the LED array gives your Silverado rugged and aggressive look during the day, the 10" LED light bar turns your Chevy truck into a beacon of light so that you can see what's in front of you at night. It is definitely no pushover when it comes to light output.