Installation guide base on a Kia Optima for LED Rear Turn Signal Lights.
You can find this product under LED Turn Signal Light Bulbs (27SMD-S25) and LED Load Resistors (AA1037).
1.) Open the trunk and remove the tail light covers on either side of the trunk.
*NOTE: Some individuals with small hands may be able to remove the bulb easily and if that is the case, skip ahead to Step #5. However, if you are not able to remove the bulb using your hands this way, continue following the guide*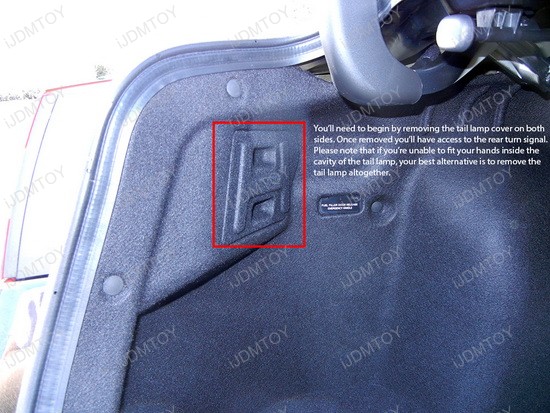 2.) Disconnect and remove the white connector from the tail lamp.
3.) Remove the three (3) 10mm nuts that hold the tail light onto the chassis.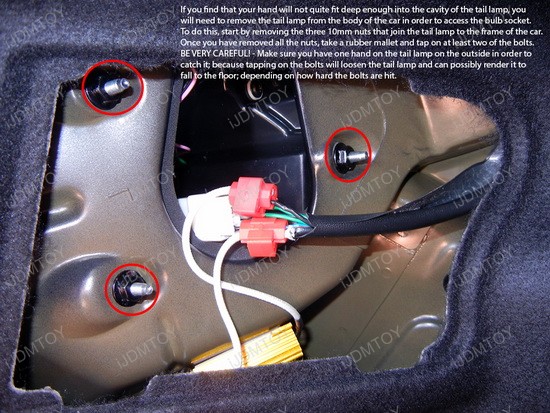 4.) Use a rubber mallet to lightly tap the bolts one by one; this will dislodge the tail light. Having a friend assist you by holding the tail light from the outside so it does not fall is highly recommended. The clips that hold the tail light may pop out suddenly which can cause the tail lamp to fall.
5.) Twist and remove the orange bulb holder circled in red, twist it counter-clockwise to remove.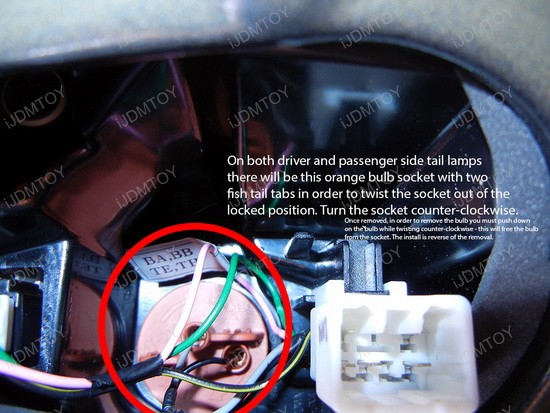 6.) Remove the OEM bulb and replace with our LED bulb. Push and twist the bulb counter-clockwise to remove.
7.) Re-install the bulb holder into the tail light and install the tail light into the chassis; tighten the three (3) 10mm nuts.
*NOTE: The installation will be completed at this point for those who do not have load resistors. For those who have load resistors, please continue with the installation*
8.) Looking at the white connector, the load resistor wires will be tapped into the pins of the wires circled in red.
DRIVER SIDE: RED/BLUE & BLACK
PASSENGER SIDE: RED/ORANGE & BLACK
9.) Use wire strippers to remove the insulation to reveal the wiring underneath, tap the load resistor wiring to the exposed wiring. Using t-taps or quick-splices will help with the installation procedure (these are available at any automotive parts stores). Be sure to mount the resistor to a metal surface on the chassis; the load resistors get very hot when they are in use so make sure that nothing sensitive to heat is touching them.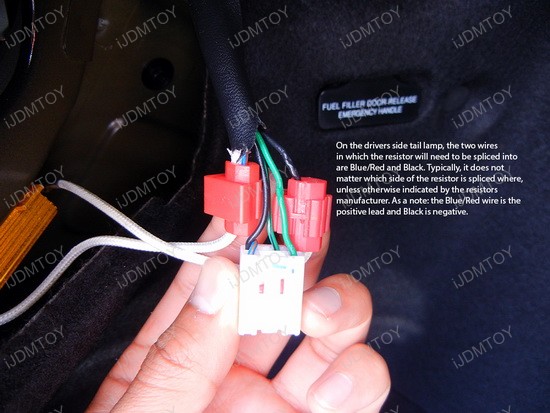 10.) Repeat the same procedure on the other side and enjoy your new rear LED turn signal lights!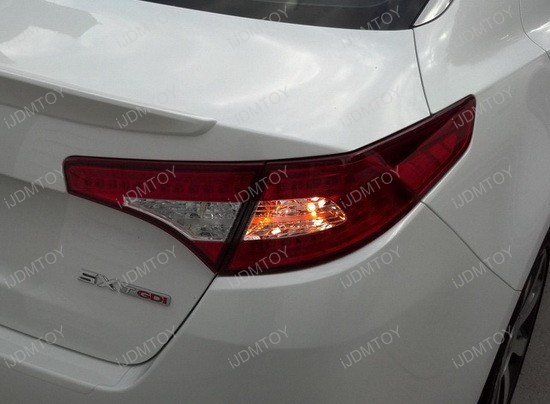 Special thanks to Jhall520 of optimaforums for uploading this information and the pictures used in this guide.