2016-up Toyota Tacoma Lower Bumper Mount LED Light Bar
One of the most popular and reliable trucks out there is none other than the Toyota Tacoma. This truck reigns as one of the top rated trucks on the market, with its affordable price tag, steadfast reliability, and incredible resale value. Because of this, many Toyota Tacoma owners use their trucks as both daily driver and as a utility vehicle. It's not uncommon to see the same Toyota Tacoma cruising on the streets and then hauling some heavy duty cargo. This is a 30" lower bumper Toyota Tacoma LED Light Bar with spot beam pattern that greatly increases the lighting output and functionality of the truck.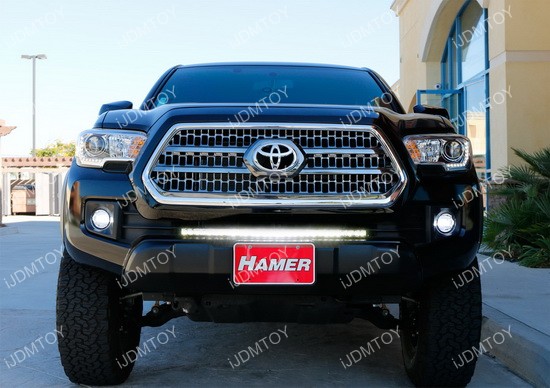 For drivers who hate the thought of modification, this Toyota Tacoma LED Light Bar assembly actually comes with specially designed brackets so that you won't need to modify the truck to install the LED light bar. There is no drilling and no cutting so that your Tacoma will remain in original condition. All you need to do is directly mount to the factory bolts inside of the lower bumper grille for a direct and easy bolt on installation.