Easily Command Attention with BMW Halo Rings
LED halo rings can be spotted in many sporty cars such as the Scion FR-S, Chevrolet Camaro, Ford Mustang, and Dodge Challengers. Angel eye halo rings accent projector head lights in such a way that commands attention and awe from other drivers and pedestrians. And while many cars are capable of sporting head lamp halo rings, perhaps they are most synonymous with BMW sedans that carry kits such as the 7000K xenon white SMD LED BMW angel eyes halo rings.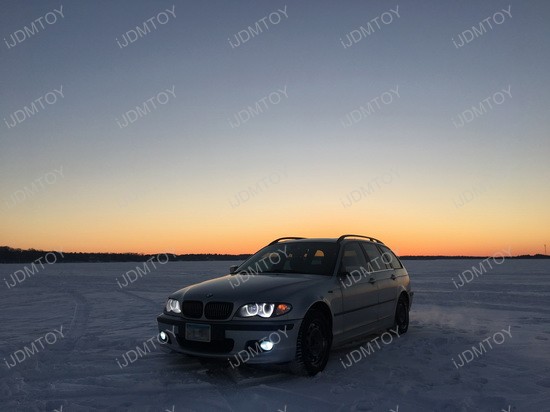 Simon ordered the LED angel eye halo rings at our online shop at ijdmtoy.com to spruce up his BMW 325ix Touring. This particular set that he ordered fits the E36 and E46 (HID trim only) 3 series, the E39 5 series, and the E38 7 series. The LED hoops have a unique cutoff design that conforms to the headlights of these BMW models as well as gives Simon's 325ix a sharp look. The 7000K xenon white SMD LED BMW angel eyes is also available for 3 series models with non-HID headlights and 2004-2006 LCI coupe models. His installation process was a minimally invasive one; it involved removing the turn signal lamp and the trim below the headlights to release the head lamp lens and reveal the projectors. After that, he clipped on the LED angel eye hoops over his projectors and wired them to the included relay wiring harness.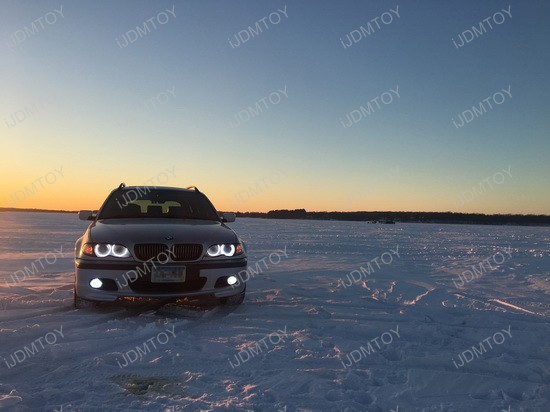 Simon chose to showcase his BMW on an icy backdrop in an early morning, which is a wonderful and most picturesque way of displaying the brightness and look of his BMW angel eye halo rings. The dusk lighting helps the LED halo rings pop out and pronounce itself while the sunrise provides a color contrast in a scene that predominantly has cool colors. The sunrise is just soft enough so that it does not detract from the xenon white light of the halo LED angel eyes. This way, your eyes naturally gets drawn towards the BMW's headlights.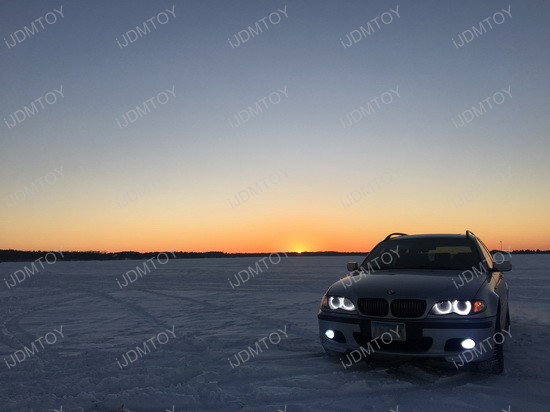 Thank you Simon for sharing your pictures and experience with our 7000K xenon white LED angel eye halo rings. You can find this and other BMW angel eye headlight accessories at store.ijdmtoy.com today!