Flair and Visibility With BMW LED License Plate Light
One car light that many people don't give much thought to is the rear license plate light; outside of looking at our rear view mirror and side mirrors, we don't pay much attention to what's behind us nor can we see it. Since the 1970s, every manufactured vehicle in the United States come equipped with rear license plate lights. Because this is standard equipment on our vehicle, we put it by the wayside in favor of other "sexy" car lights. But that doesn't mean license plate lights can't have flair either. Last year, one of our customers attended Autocon 2016 at the Los Angeles Convention Center to showcase his BMW M3 and demo our xenon white high power LED license plate light.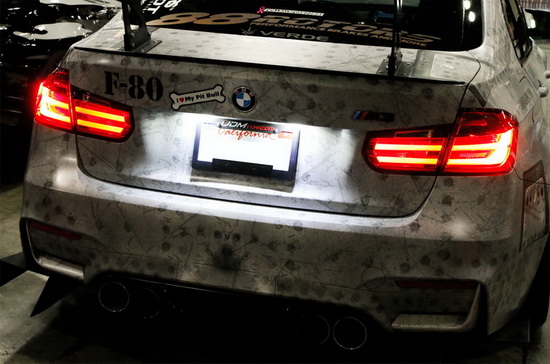 Sporting our custom license plate frame as well, our customer flaunted the extreme brightness of our LED license plate light. You can clearly see just how bright it is in a well-lit show floor and how much it stands out. Imagine its visibility at night! This LED license tag light makes it ideal to show off your custom plates, though we admit that's hard to tell on these pictures since we whited out that information for our customer's privacy. Our LED license plate light is a direct replacement for BMW vehicles only so if you drive a BMW and want high visibility and have heads turning as you drive, this is the LED light for you. If you do not drive a BMW, there are other direct replacement LED products available as well!