JDM Itasha Cars Will Turn You Into an Anime Fan (Lancer Evo Edition)
The almighty Mitsubishi Lancer EVO. Once Subaru's biggest rival and now an extinct breed. Back in the day the Lancer Evolution and the Impreza WRX STi were the two names that came to mind when it came to performance cars. Their storied rivalry that lasted a quarter century recently ended when Mitsubishi released the final 2015 year model Lancer Evo X, which looks almost exactly the same as the previous model, dating back 2008. Though this Mitsubishi is actually the Lancer EVO VIII, the body type is legendary and will always have a place in the hearts of performance enthusiasts. To me, it's the perfect body to showcase as an itasha car.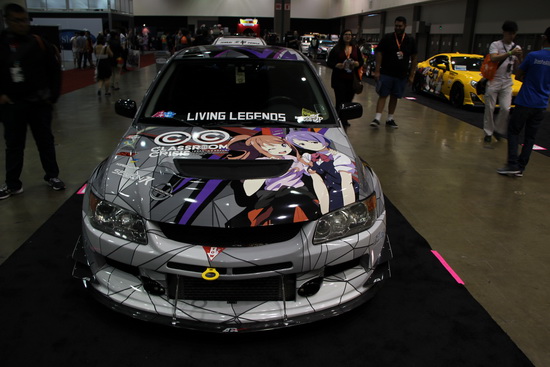 The duality of the itasha caught my eye, as if two sides of the same coins. The theme was Classroom Crisis, a political anime about a high school class of engineers trying to keep their aerospace program afloat. The left side was adorned purple for Iris Shirasaki, the class's test pilot, while the right side was colored orange for Mizuki Sera, the class's engineer.
The crowning achievement of this itasha is its race car aesthetic. The blown images of the two main characters Iris and Mizuki almost act as import models, lending themselves well to displaying the Lancer Evo. The slew of car brands lined up along the lower edges, the rear bumper, and the tires act as sponsorship spots and are very reminiscent of a Nascar car. These, along with the driver's name marked by the MCs' heads and car numbers really accomplishes the racer look. I couldn't help but notice in the front of the Lancer EVO a modest array of quintessential JDM accessories. Of course, this Mitsubishi also had body diffuser fins drilled onto its sides. The lower front bumper canards actually didn't look half bad looking at it from the front end. The black canards contoured beautifully to the front bumper and didn't stick far out so as to not attract too much attention to itself.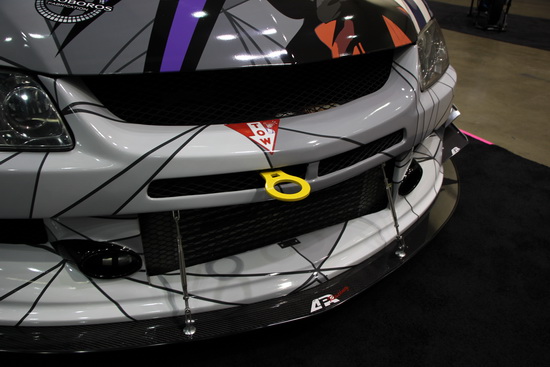 Accompanying the body diffuser fins was a carbon fiber lower bumper lip. To hold up the splitter chin was a pair of bumper lip strut rod support bars. I felt that this suite of aftermarket parts and accessories was just the right amount of extra trim to accent the itasha and achieve the race car aesthetic. They weren't arranged in any avant garde configurations and for the most part, lined up to the shape of the Lancer EVO.