LED Light Bar Sits Subtly Behind a Toyota Tacoma Grille
There is good reason why there are many Toyotas on the road today. It's difficult to pass up the affordability and great fuel economy it provides. No matter where you are, you are likely to see a Toyota drive by. The Tacoma takes the Toyota package and takes a step further by positioning itself as a superior work vehicle and daily driver. The Toyota Tacoma pick-up truck is versatile in its ability to thrive in all settings and transitions well in between those settings. We have added to the value that Toyota already brings by developing the Toyota Tacoma LED light bar system.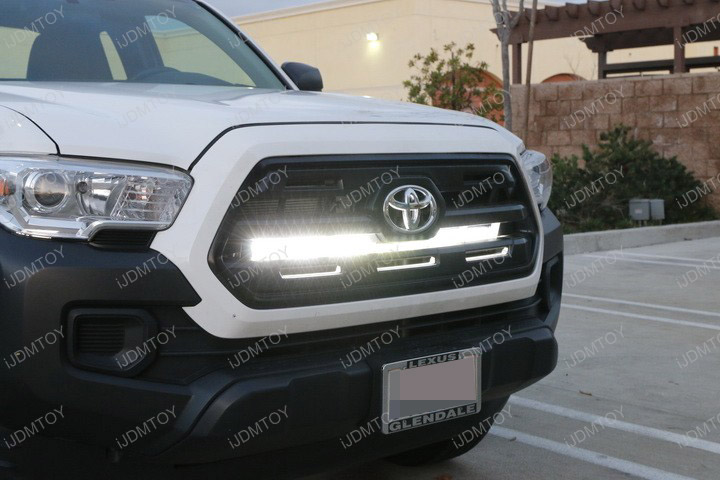 We've been looking for a test vehicle for some time after developing the LED light bar system. We wanted to test how seamless our light bar fits behind the grille of a Toyota Tacoma, as well as its output. This LED light bar was created to compliment the versatility of the Tacoma that shines through in dark places as it leaves the city, but smoothly traverses back as if it never left. We took to social media and called upon out community to find the Tacoma we need. Our test subject would not arrive via Instagram or Facebook, but rather a chance encounter. Carlos came by to our store in a Toyota Tacoma, his work vehicle, in search of LED lights for his Cadillac. We couldn't pass up this opportunity so we asked if we can use his Tacoma as a test subject for our LED light bar system. He was gracious enough to lend us his pick-up truck. The entire process from removing the grille to testing the LED light bar took all of 30 minutes. Our prior experience with an under-grille LED light bar lent itself well to expediting the installation. All it took was removing the grille, bolting in the brackets, and wiring the light bar to get the testing underway.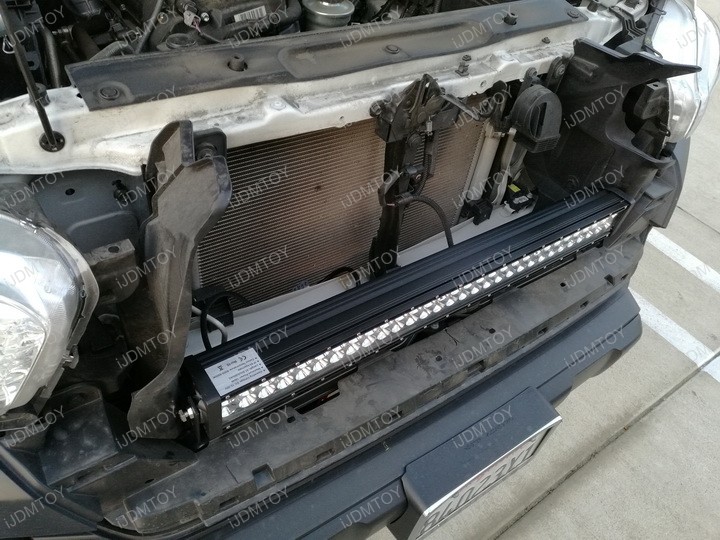 We found that the mounting brackets put the LED light bar at the right height which affirmed its subtle placement. We wanted to thank Carlos for generously lending his Tacoma by offering him a 25% discount for his entire purchase.