This general installation guide will show you some basics on how to install the LED bumper reflectors. You can find these products under LED Bumper Reflectors.
1.) Remove the stock reflector assembly from the bottom of the bumper by pushing the clip down and the stock reflector should pop out.
You can also check this general video on how to remove the stock bumper reflector
2.) Before you install the reflector, you may have to bore out the hole where the wires go through to allow the reflector to sit flush.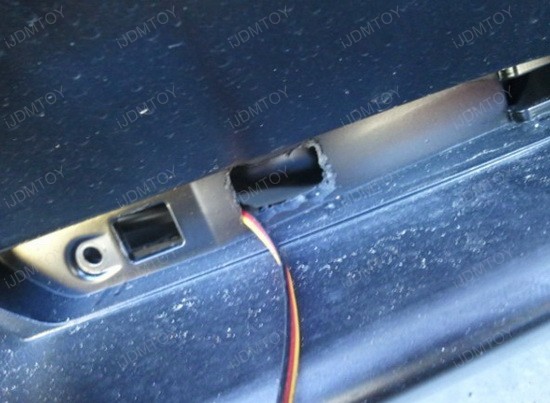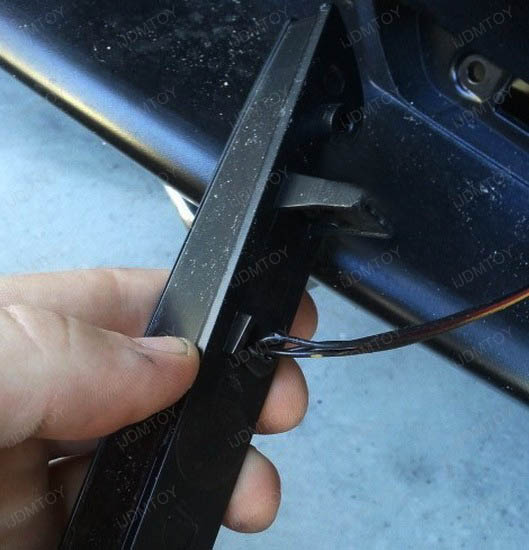 It is recommended to remove the entire diffuser assembly when creating the hole so that you have a clear and better idea of what you are doing.
3.) Route the wires from the LED reflector behind the bumper up to the tail lamps. Secure the wires with painters tape so they do not fall back down into the bumper area.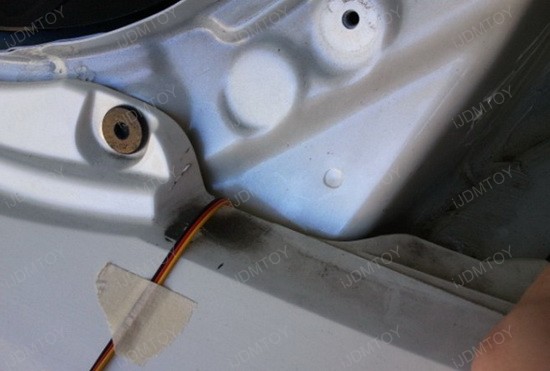 4.) Locate your stock brake light socket. The functions and color of the wires are the following:
SMOKED Reflector:

WHITE Wire - Negative
White Wire w/ X's - Running Light
WHITE Wire w/ Red Dashes - Bright Mode
White w/ Bold Red Dashes - Negative
White w/ Thin Red Dashes - Tail light mode
White w/ Red Dots - Brake light mode

CLEAR Reflector:

BLACK Wire = Negative
RED Wire = Positive (Bright Mode)
YELLOW Wire = Positive (Dim Mode)

RED Reflector:

BLACK Wire - Negative
WHITE Wire - Running Light
RED Wire - Bright Mode
Vehicle:
Black Wire = Negative
Red Wire = Positive (Bright Mode)
Green Wire = Positive (Dim Mode)
Keep in mind that not every vehicle may follow this same exact color setup for the wires, we recommend that you check the function of the wires using a multi-meter or test light first.
Once you have located the appropriate wires, use t-taps (available at any automotive hardware store) and connect the wires together. Use electrical tape to cover any exposed wires.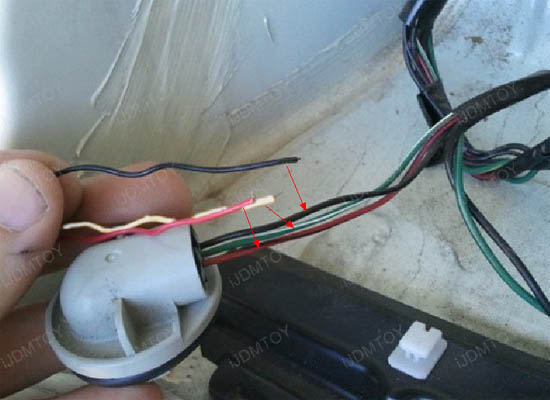 5.) Once everything is wired up, please test the lights by turning on the lights and stepping on the brakes to see if the LED reflector lights up as how the stock setup does. After doing that, you can follow the steps in reverse order to re-install the tail lamps and other components taken out. Enjoy your new CR-Z LED reflectors!