This is a tutorial on how to install the xenon white LED illuminated Mercedes star emblem base (75-110) (75-111). This installation will be based on the 2015 Mercedes-Benz CLA, and while some directions may slightly differ depending on your Mercedes vehicle, the general concept will remain the same. Please note that this product is the LED illuminated base ONLY and does NOT include the Mercedes star emblem. You will have to use your existing star emblem.
There are two types of illuminated bases available for your Mercedes star emblem: a solid base and a mesh base. In order to make sure you purchase the correct base to fit onto your Mercedes, double check the fitment info of each product and make sure the distance between the two lower points of the star emblem is 5.75 inches. Before you begin installation, make sure your Mercedes' engine and electronics are turned off.
Step 1: Twist the Mercedes star emblem and its base counterclockwise.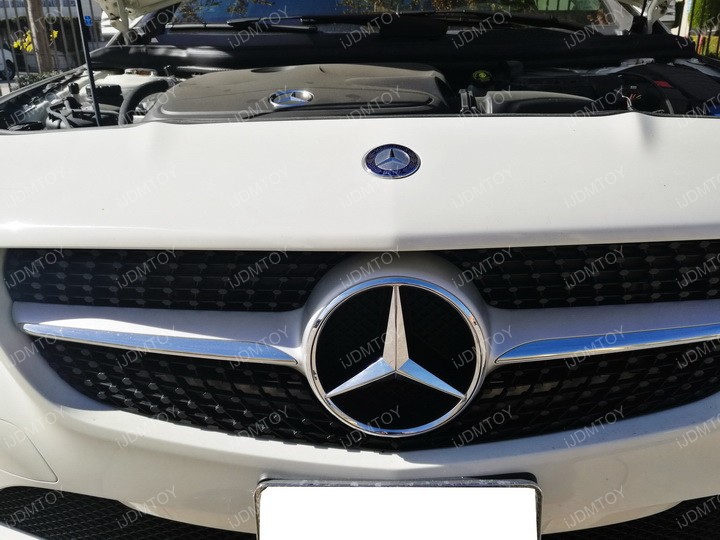 The Mercedes-Benz star emblem base will likely be affixed tight, so exercise patience and remove slowly.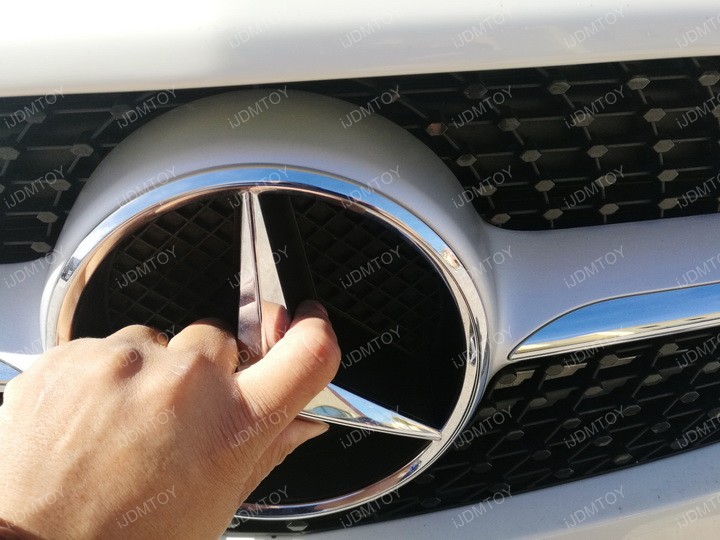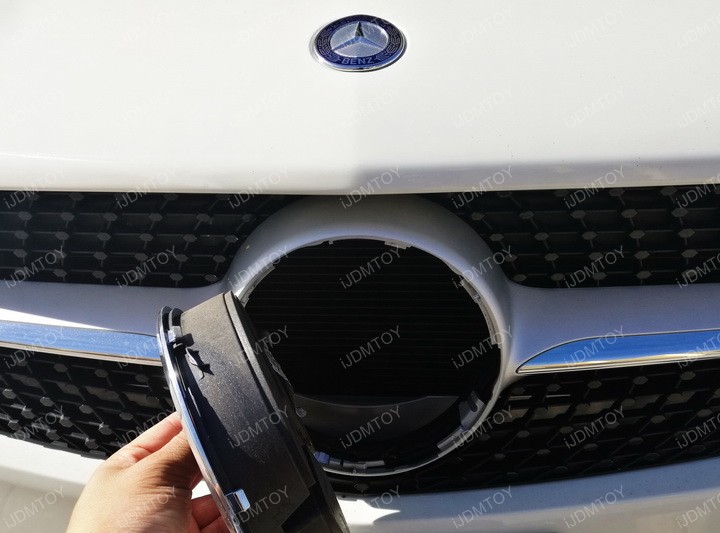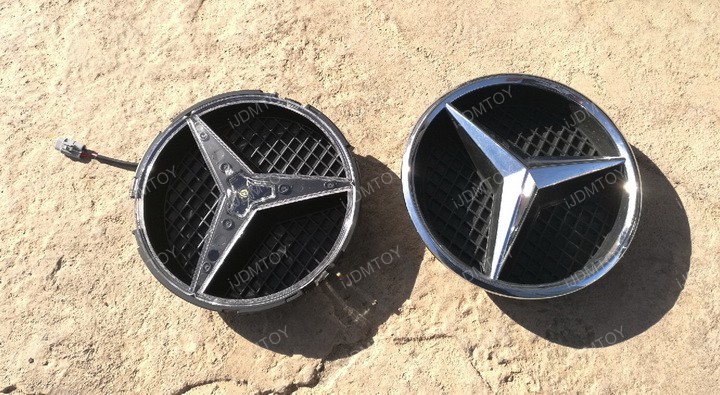 Step 2: Detach the star emblem from the base. The emblem is the top part of the assembly and is what you need for the installation.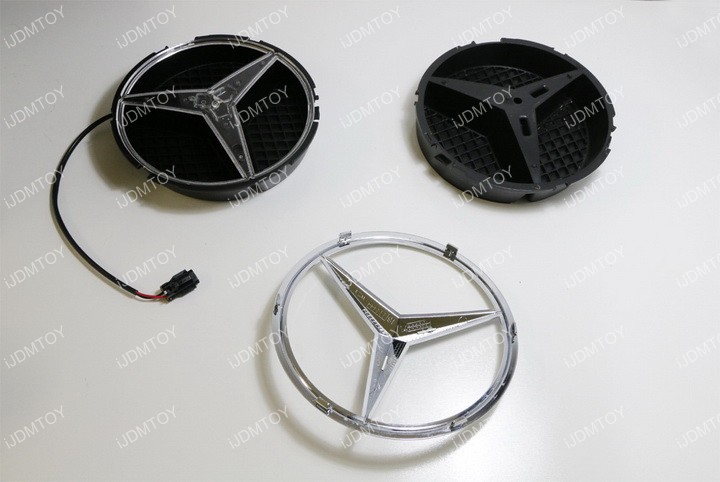 Step 3: Flip over the original Mercedes emblem and locate the 2 tabs on the star arms. Lift up the tabs and remove them from the emblem.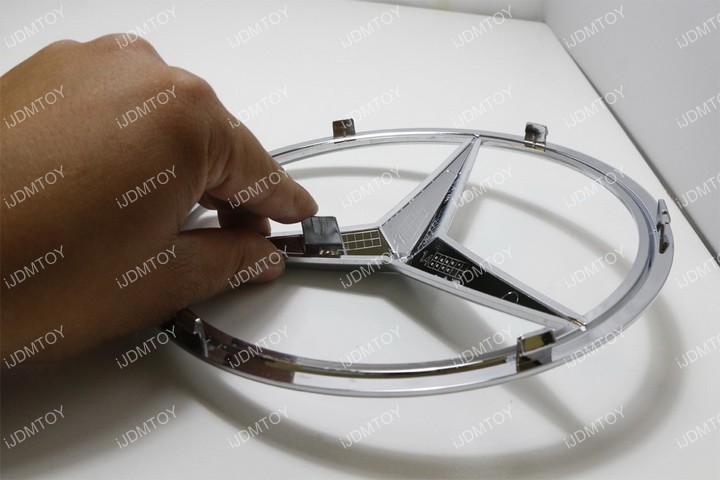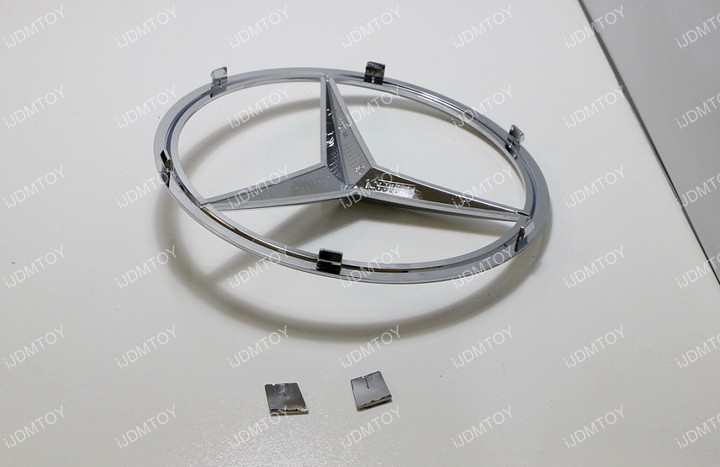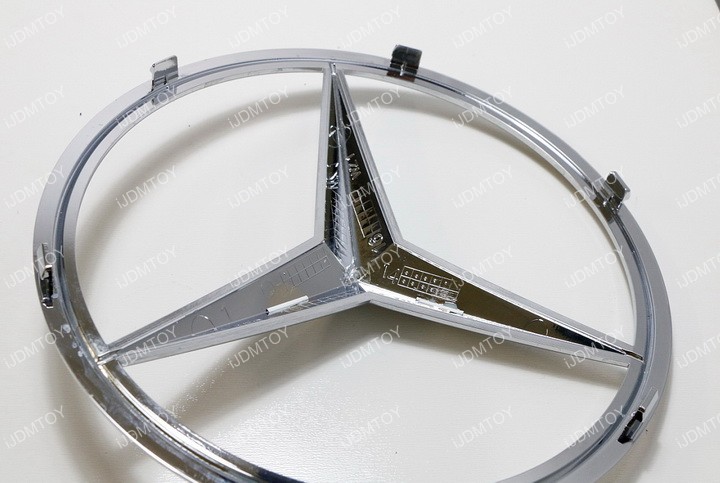 Step 4: Take the original Mercedes star emblem and the iJDMTOY illuminated LED base. Place the Mercedes emblem on top of the LED base and make sure the arms line up together. It may seem that the arms are equally spaced, but they actually are not. If the arms don't line up exactly with the LED base, keep rotating the emblem until emblem arms line up with the LED base.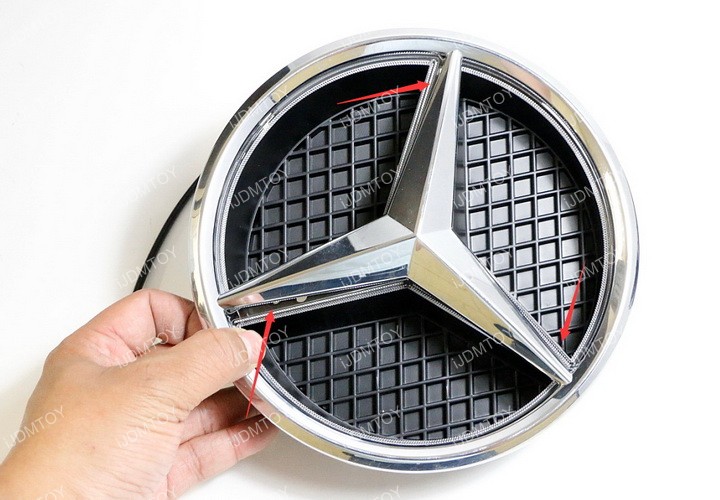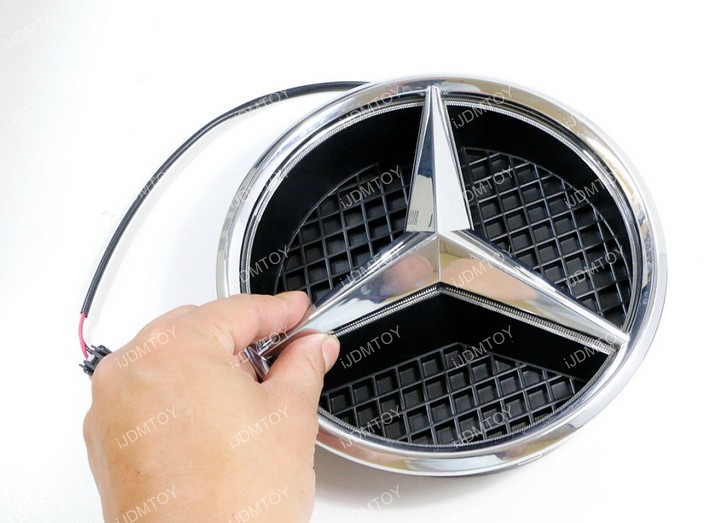 Step 5: Once the arms are aligned, push the Mercedes emblem down to attach to the illuminated LED base.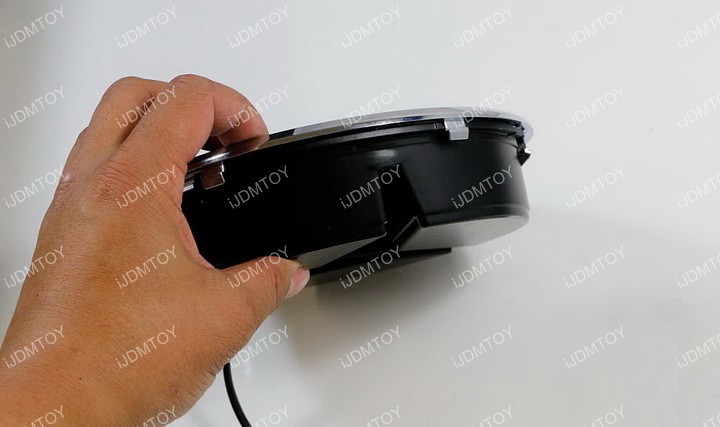 Step 6: Lock in the original Mercedes emblem illuminated LED base. Tap the red wire to your ACC 12V+ using any of the available slots in the box. Tap the black wire to a ground. In this installation, we are using the ACC slot circled below.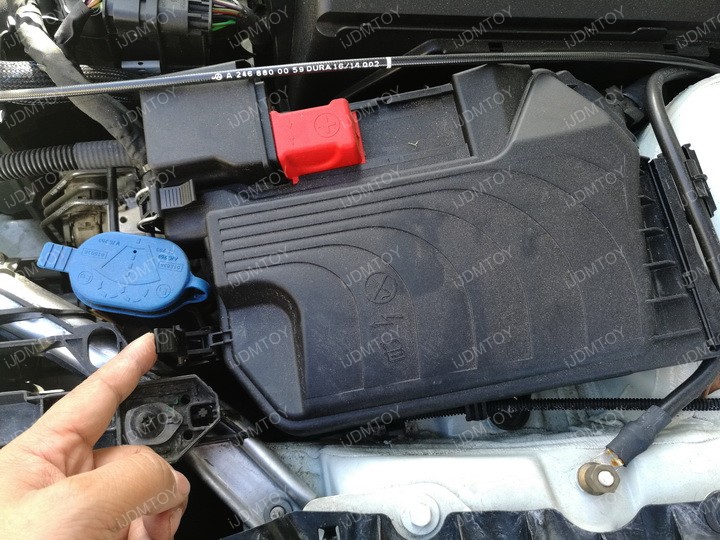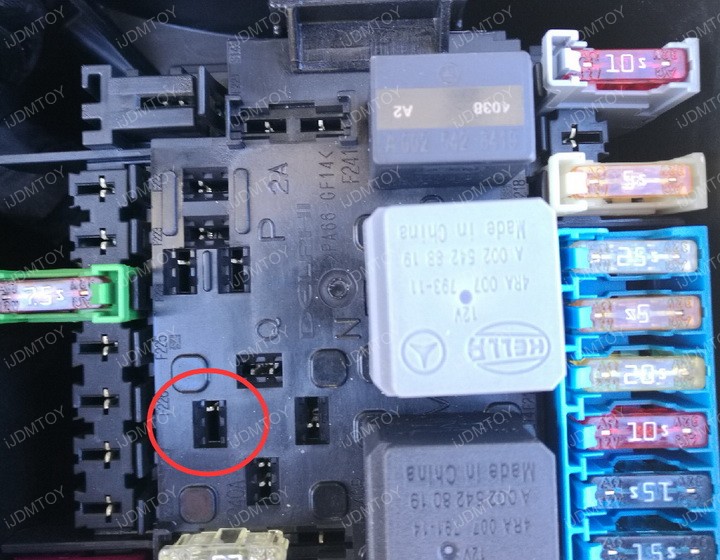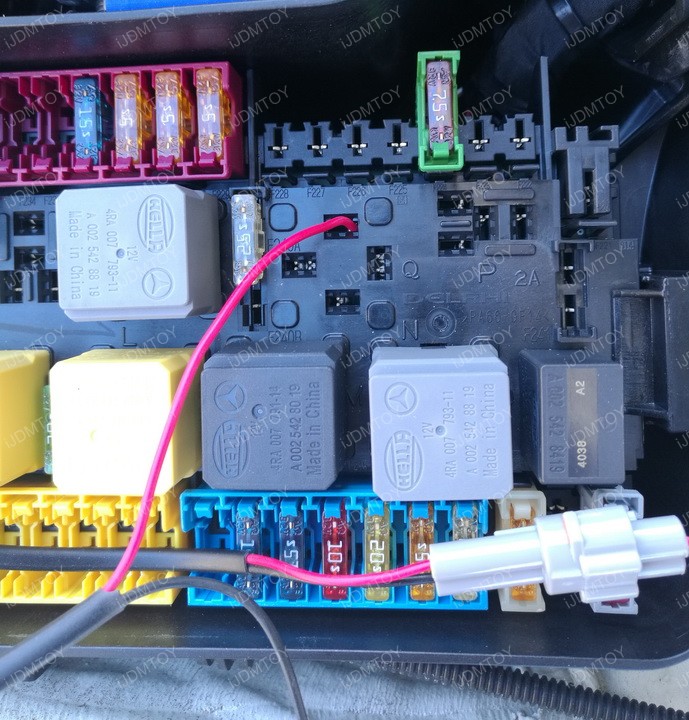 If you want the Mercedes LED emblem base to only function at night, simply tap the wires to your headlight (+) and (-).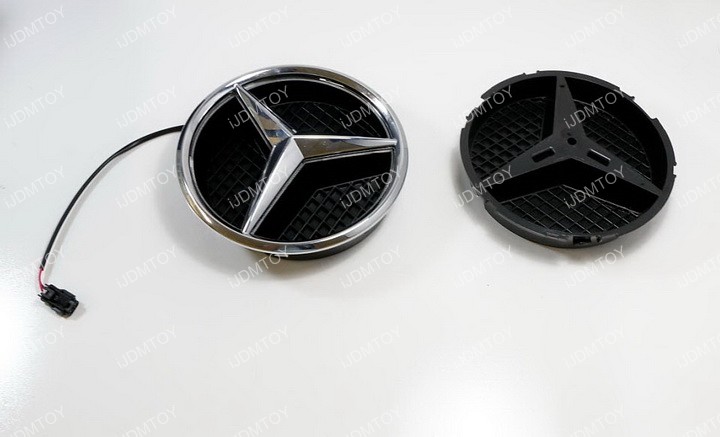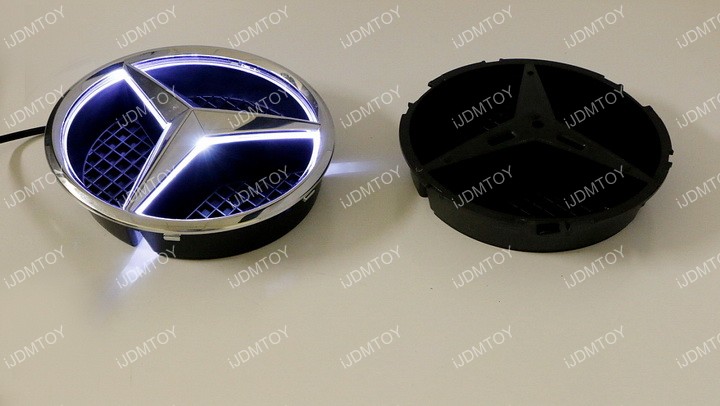 Test the illuminated Mercedes star base to make sure it lights up. Since this LED emblem base is an add-on LED product, it will not trigger bulb-out warnings or other CANbus issues on your dashboard computer. Check out the video below for a demonstration. Once you've confirmed that it works, you may now enjoy your Mercedes' brand new LED star emblem backlight!
Find this and more OEM replacement LED lights today!